Help Us To Help the Environment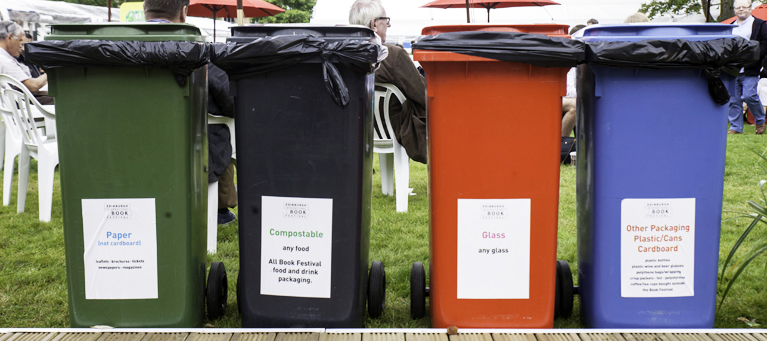 There are lots of ways in which you can help us to be a greener festival:
Recycle your brochure
Our brochure is printed on 100% recycled paper and all brochures left at the end of the Festival are recycled. Once you have finished with your copy, please pass it to a friend or return it to the brochure racks.

Refill your water bottle
We provide a public drinking-water tap in the Gardens so you can save money and the environment by refilling your water bottles.

Use our composting and recycling facilities
Help us by using the appropriate wheelie bin – there are bins for food waste, paper, plastic, glass and cans around the site and our cafes and bars use compostable cups and packaging. Our staff are happy to help if you need assistance.

Use our cloth book bags
Free from our bookshops with every purchase; offering an alternative to plastic carrier bags.

See one of our events on the environment
Every year we invite experts on the environment to speak about and debate the issues; look out for these events in the August programme. You can find more information about events with an environmental focus below.
Tuesday 16 August 14:15 - 15:15
Tuesday 16 August 16:15 - 17:15
Wednesday 17 August 10:30 - 11:30
Attend in person
Watch online
Wednesday 17 August 11:30 - 12:30
Attend in person
Watch online
Wednesday 17 August 13:30 - 14:30
Attend in person
Watch online
Thursday 18 August 13:30 - 14:30
Attend in person
Watch online
Thursday 18 August 16:30 - 17:30
Attend in person
Watch online
Cancelled
Friday 19 August 14:15 - 15:15
Friday 19 August 15:30 - 16:30