Help Us To Help the Environment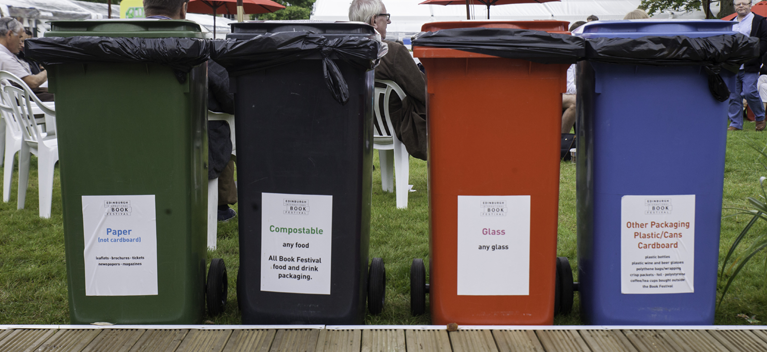 A greener festival
---
See one of our events on the environment
Every year we invite experts on the environment to speak about and debate the issues; look out for these events in the August programme. Information about events with an environmental focus can be found by searching the programme using the 'Category' drop-down menu. 
---
Recycled brochures
Our brochure is printed on 100% recycled paper and all brochures left at the end of the Festival are recycled. You can help us by recycling your copy of our brochure when you are finished with it, by passing it to a friend or leaving it in the brochure racks in the Entrance Tent in Charlotte Square Gardens during the Festival.
---
Refill your water bottles
We provide two drinking-water taps in the gardens so you can save money by refilling your water bottles rather than buying more.
---
Use our recycling facilities
We have a comprehensive recycling programme with wheelie bins situated around our Charlotte Square Gardens site for paper, card, plastic, glass and cans. Although we already recycle much of our waste during the Festival we are always looking for ways to improve this. You can help us by using the appropriate wheelie bin for your rubbish when you visit the Festival. Our staff are happy to help if you need assistance.
---
Come rain or shine...
Our beautiful garden is a lovely place to enjoy a drink or two with friends in the daytime or evening. We no longer provide outdoor heaters due to their adverse environmental impact, so be sure to bring along warm clothes in case the weather turns chilly.