More articles Wednesday 01 July 2015 10:00am
AFTER DARK TALES FROM AROUND THE WORLD IN JURA UNBOUND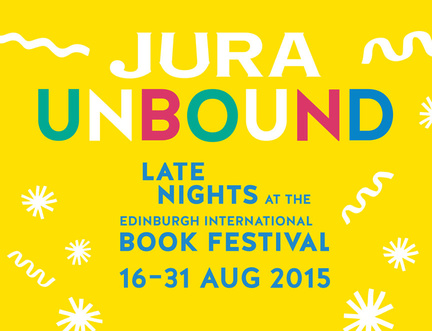 Download PDF
The sweet and smoky taste of Jura Origin whisky is honoured in the mischievous, late night events of Jura Unbound in the Spiegeltent of the Edinburgh International Book Festival in Charlotte Square Gardens every evening between 16-31 August from 9.00pm.
At the free events authors, poets, musicians and performers will entertain, surprise and scandalise with their stories and antics. Edinburgh International Book Festival Associate Programme Director Roland Gulliver comments; 'There is a fantastic energy to Jura Unbound. It is a free, late night literary experience, steeped in stories and capturing the fun of the festival. Each night offers something a little different, from intimate readings to quirky surprises. There might be some dancing in our Spiegeltent!'
Jura Unbound travels around the world with international and Scottish authors in 2015. Kicking off with Trading Stories on Sunday 16 August, Denmark's Dorthe Nors, author of Karate Chop; Ireland's Mary Costello reading from her debut collection, The China Factory; USA's Molly Antopol whose story collection is The UnAmericans; and New Yorker David Gates, author of A Hand Reached Down to Guide Me, offer a night of seductive international short stories.
Famed for her work in children's books, Julia Donaldson with her partner Malcolm will be staying up late on Thursday 20 August and playing their folk hits from when they busked on the streets of Bristol before organising an intimate audience participation game of Squash and a Squeeze.
In Sounds of the City on Friday 28 August three writers read gritty stories of urban cities inhabited by street-fighting men and women. Marlon James' atmospheric A Brief History of Seven Killings tells of the attempted assassination of Bob Marley; Ryan Gattis's visceral All Involved follows LA gangs after the '92 riots; and Lisa McInerney's mischievous The Glorious Heresies sees a group of misfits mishandling a murder.
On Monday 24 August we cross over to Europe with Dan Gunn's Emperor of Ice Cream which explores the lives, loves and betrayal of Italian immigrants in Edinburgh before World War II and Massimo Bocchiola who is an acclaimed Italian writer and translator, who translates Irvine Welsh's works. They are joined by Edinburgh-based Italian folk troop The Badwills to bring a little slice of Italy to Charlotte Square Gardens.
Returning to Jura's Scottish roots Colin Macintyre, aka Mull Historical Society, will be joined by Israeli author Etgar Keret and international musician and novelist John Darneille in There Was A Crazy Guy on Monday 17 August for music, stories and antics.
Jura Unbound evenings are free and unticketed and take place every evening from 16 – 31 August from 9pm to 11.00pm in the Spiegeltent in Charlotte Square Gardens. Please note Jura Unbound will start at 10.30pm on Monday 31 August. Guests will receive a free dram of single malt whisky courtesy of sponsors Jura. Find the full Jura Unbound line-up at www.edbookfest.co.uk.
More articles