More articles Monday 17 August 2015 9:20pm
Andy Wightman Tackles Land Reform at Edinburgh International Book Festival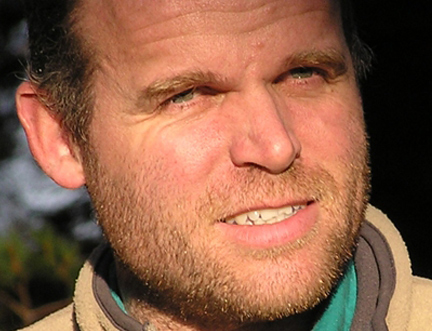 Download PDF
Land reform in Scotland could take more than a generation to achieve, one of its strongest advocates told an audience at the Edinburgh International Book Festival. Andy Wightman, author of The Poor Had No Lawyers, which traces who owns land in Scotland and how they came to own it, said that a fundamental reassessment of the nature of landownership was needed.
He said: "What we need to do is democratise land. We need to make ownership and use much more susceptible to democratic accountability because ultimately this land belongs to all of us. People may own land, but we own the law, and it is our law that provides the private property rights that these people enjoy, and we can reframe that law any time we like."
Dundee-born Wightman worked as a ghillie, environmental scientist, and an environmental campaigner before becoming a writer and researcher in the early 90s. He has written extensively on land reform and campaigned for the reforestation of Scotland.
Wightman said that though some large victories had been scored in the early days of the Scottish Parliament, momentum was lost and following the SNP victory in 2007, the administration "told government officials that enough had been done on the topic". He said: "It was at that point, I thought 'this will come back again', and that was part of the genesis surrounding this book. Because I knew when it came back again, a much wider section of society had to be better informed about a lot of stuff, to give them traction.
"Until lots of people all over the country realise that the places they live and work on and care about is all land, it's not all about crofters in Skye, it's about everywhere, we won't get the traction we need."
Addressing the current Land Reform Scotland Act currently being considered by the Scottish Parliament, he said that it he viewed it as the start of ongoing process and wanted to see independent bodies set up to steer it. "I think what is important now is that land reform is seen as an enduring process," he said. "I think this is going to take a generation or more. So it's important that we put in place the institutions that make sure these topics don't fall off the agenda again."
Sketching out what he saw as the main areas for reform, he said that the economy needed to be moved away from one based of 'shopping and debt', but also the creation of absolute public transparency for land ownership. He bemoaned the fact that a requirement for all offshore companies that own land in Scotland to be registered in the EU, making its ownership traceable, had already been dropped from the current proposed legislation.
"Where we are sitting, in Charlotte Square Gardens, most of it is owned in the British Virgin Islands, so the fate of this piece of land is being exercised offshore. To me it's unacceptable that we should have that level of secrecy."
Highlighting the fact that 96 per cent of landowners and farmers had been exempt from non-domestic rates since the 1950s, Wightman said that this state of affairs "wasn't justified and made no economic sense, and resulted in pushing land prices up."
He has previously stated that Great Britain as a whole as "hugely skewed pattern of landownership" dominated by large private estates and farms and public sector forestry bodies. Wightman called for greater devolution of forestry ownership patterned on the French and Finnish template, with the cultivation of farm forestries, small-scale rural businesses.
-ends-
More articles