More articles Tuesday 18 August 2015 3:10pm
Book Festival Enjoys Record Book Sales Over Opening Weekend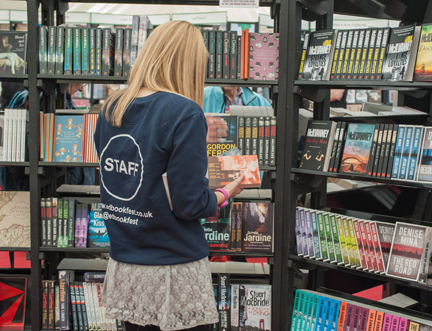 Download PDF
Edinburgh International Book Festival enjoyed one of its busiest opening weekends and a record trade in its adult and children's bookshops. With sell out events from the likes of historian Anthony Beevor, Joanne Harris, Corries singer Ronnie Browne, Prize winning authors Ali Smith and Marilynne Robinson and the Fields Medal winning French mathematician Cedric Villani the Festival got off to a great start.
Sales in the two bookshops, which are owned and managed by the Book Festival, topped 10,000 books in the first two days of the Festival with the top sellers being The Shed that Fed a Million Children by Magnus Macfarlane-Barrow, How to be Both by Ali Smith and Julian Clary's first children's book, The Bolds.
James Shaw, Head of Book Sales & Retail at the Edinburgh International Book Festival, said "It's a great start to what is going to be a very exciting festival."
Nick Barley, Director of the Edinburgh International Book Festival said "These extraordinary sales figures prove that books are vibrant, exciting and inspiring. Stories cross borders, cross cultures and cross languages and books are the vehicle through which we can make sense of the world we live in today."
The Book Festival continues until Monday 31 August with its most international programme to date, with authors from 55 countries travelling to Charlotte Square Gardens. Tickets are still available for events across the programme, including George The Poet, Helen Lederer, Howard Jacobson, A C Grayling and 2015 Man Booker Prize nominees Anna Smaill, Andrew O'Hagan and Anne Enright. Entry to Charlotte Square Gardens is free, and full details of the programme can be found on www.edbookfest.co.uk.
-ends-
More articles