More articles Friday 21 August 2015 10:10am
Broadcaster Nick Robinson Speaks of Referendum Storm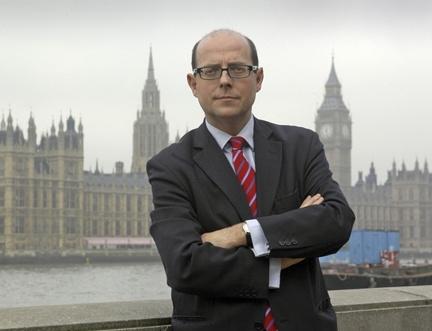 Download PDF
THE protests outside BBC Scotland's Glasgow headquarters in the run up to last year's independence referendum were like something from "Putin's Russia", former BBC political editor Nick Robinson has said. Addressing a sell-out audience at the Edinburgh International Book Festival last night, the veteran broadcaster said that he had been used as a "symbol of the wicked, metropolitan, Westminster classes."
Promoting his book, Election Notebook, an account of the 12 months leading up to the General Election in May, the book includes his experiences during the Scottish independence referendum. Robinson found himself at the centre of a political storm following a row with Alex Salmond, when he accused the then SNP leader of failing to answer a question during a press conference about the prospect of the Royal Bank of Scotland in the wake of a Yes vote.
The exchange resulted in thousands of pro-independence campaigners converging on the BBC's Clydeside headquarters to protest against what they claimed was 'BBC bias' and demanding Robinson sacked. He said of the incident: "I don't think my offence was sufficient to justify 4,000 people marching on the BBC's headquarters, so that young men and women who are new to journalism have, like they do in Putin's Russia, to fight their way through crowds of protesters, frightened as to how they do their jobs. That, you may agree with me or disagree with me, is not how politics should operate either in the UK or in future independent Scotland if there is to be such a thing. We should not live with journalists who are intimidated, or bullied, or fearful in any way".
Robinson said that he viewed the row as "a source of regret" but added: "Alex Salmond was using me to change the subject. Alex Salmond was using me as a symbol, a symbol of the wicked, metropolitan, Westminster classes sent from England, sent from London, in order to tell the Scots what they ought to do.
"As it happens I fell for it. I shouldn't have had the row with him, which I did and I chose a particular phrase badly in terms of my reporting and that is genuinely a sense of regret."
He also criticised the "coded" language used by Nationalists to attack English journalists reporting on the independence campaign, stating that phrases like "metropolitan" were a reference to their nationality.
The broadcaster also described the rise of Jeremy Corbyn, the left-wing Labour leadership candidate as a "truly extraordinary", but said he believed it was more a rejection of the status quo and a hunger for someone to take a principled stand on issues, than a vote of confidence in Corbyn's leadership credentials.
He said: "I'm struck when I speak to Corbyn supporters, and I push them a little bit, they say 'look, I know he's not going to be Prime Minister and I know - this is their views not mine, I stress - he's not leadership material in the conventional sense, but I don't really care. I just want to throw the cards up in the air and see what happens."
Robinson also spoke openly about his diagnosis and treatment for lung cancer earlier this year, that effectively knocked him off the election campaign trail. He said that despite now recovering, it had not made him cut down his work schedule. "It's a cliché that illness gives you perspective, but I did have to watch an awful lot of the election from my sofa or a hospital bed, and not where I wanted to be," he recalled. "And there were certainly days when I thought 'What on earth is that fuss all about? Who the hell cares?' "There's a lovely phrase, 'the narcissism of small differences', but that sort of sense that we're arguing, or they're arguing, over next to nothing, I certainly had. I'd like to say I've become a sane person who's not a workaholic but, sadly, I can't say that. But undoubtedly illness just gives you time to pause, think and I hope, test me in a year's time, get a little perspective."
This event was supported by The Edinburgh Academy.
END
More articles