More articles Wednesday 26 August 2015 12:50pm
Celia Imrie Speaks of the Challenges of Writing a Second Novel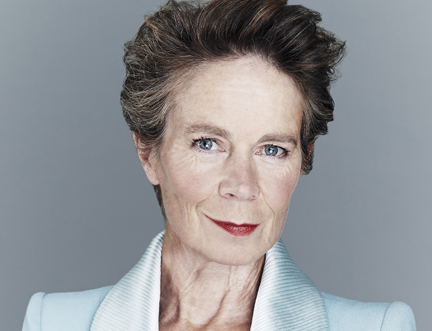 Download PDF
The challenges of the difficult second novel, grasping grown-up children and the frustration of men taking women's roles, were topics up for discussion with actress Celia Imrie. The star, best known for her comedy roles with Victoria Wood and the films Calendar Girls and Best Exotic Marigold Hotel, appeared at the Edinburgh International Book Festival to discuss her debut novel, Not Quite Nice.
Imrie said that she had been persuaded to try her hand at writing a novel after completing her autobiography, The Happy Hoofer, and decided to use the French Riveria, where she owns an apartment in Nice, as the setting for her comedy novel about middle-aged woman's life among the ex-pat community in a fictional town.
The actress revealed that a sequel was already completed, called Nice Work If You Can Get It, but doubted she would advance beyond that volume. She said. "Sometimes I would lie awake at night and think 'I'm not sure what's going to happen next'. Truly, I think people who write all their lives and think up all these stories are magicians, because it's very hard to start from nothing. As an actress I'm told where to go, I'm told what to lines to say, I'm told what I have to wear, I'm made up and shoved on. But to be a writer, you've got to do it all yourself and I take my hat off to them who do it all their lives."
Discussing the inspiration for the characters in her book, Imrie confessed that the main character's grasping and demanding grown-up children were drawn from real life. She said that she was concerned that her own friends were being "leaned on" by their progeny to be unofficial babysitters but also not to spend what they see as their inheritance.
"When you're of a certain age, toddlers, I've been told, have the energy of an Olympic runner, so it's quite tough, and that's a reality I've observed," she said. "The other thing I've found, which is quite grisly, is that people talk about their inheritance. They say 'why are you going on a cruise, I thought you were going to pay for our kids' education'. And you think 'just hold on a minute', but I think it's vulgar in the extreme. But again, it's not something I've made up, it's something I've heard, and I find it quite shocking."
Imrie, whose father came from Glasgow, recalled her time acting with the city's famous Citizen's Theatre during the 80s, under the stewardship of Philip Prowse, Robert David MacDonald, and Giles Havergal, in particular how hard it was to get a part there.
"I'm very happy to admit that it took me about five goes to get into the company, because they were unusual in that they were the only theatre company who advertised in Stage, so everybody could be seen, And that was very, very rare," she said. "And they came to London, and you probably only had two minutes in front of this magnificent three, but they knew from that two minutes whether they wanted to work with you."
Imrie said that since starring in Best Exotic Marigold Hotel, new avenues for acting roles had opened up for her in America, but she bemoaned the current popular practice by British directors of casting men as the indomitable Lady Bracknell in Oscar Wilde's The Importance of being Earnest. "I'm having some marvellous roles at the moment, but what's driving me mad, though, is how many men are playing the role because I really want to do that," she said. "And, come on, there aren't that many plays with marvellous roles for women. I'm sure they're very good at it, but it makes me scream."
-ends-
More articles