More articles Thursday 13 August 2015 9:00am
Charlotte Square Gardens opens for 2015 Edinburgh International Book Festival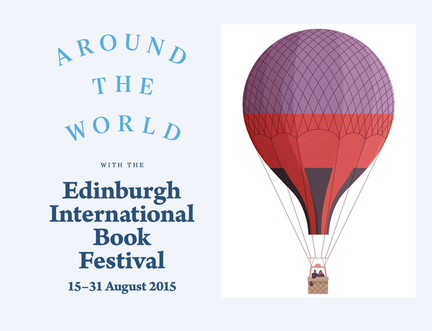 Download PDF
With the Edinburgh International Festival, and Edinburgh Festival Fringe well underway, the Edinburgh International Book Festival opens its doors on Saturday morning to 17 days of ideas, debate, discussion and books, lots of books.
In its most international programme to date, the Book Festival welcomes writers from 55 countries around the world including 9 of the 13 authors nominated for this year's Man Booker Prize, 56 debut novelists and short story writers, and a host of well-known faces ranging from actor Alan Cumming, First Minister Nicola Sturgeon, American civil rights activist Reverend Jesse Jackson to children's authors Cressida Cowell and Julian Clary.
Nick Barley, Director of the Edinburgh International Book Festival, said "We are looking forward to 17 days of great writing, wonderful stories, radical ideas and robust discussion and debate. Come and join us and expand your horizons – meet our international writers, hear stories from Mexico and Argentina, Austria and Australia and from much closer to home. Whatever your interests – crime, politics, comedy, photography, music, poetry, history and so much more – there'll be something you will enjoy."
Tickets are still available for a range of events across the programme, from Ian Rankin's conversations with Richard Havers and Stuart David, to Man Booker Prize nominees Anne Enright, Andrew O'Hagan and Nigeria's Chigozie Obioma as well as street artist Stik and a performance from George the Poet. Over the opening weekend, tickets are available for John Burnside whose 1997 debut novel has just been reissued as a Vintage Classic; S J Watson who brings his psychological thriller Second Life, a follow-up to Before I Go To Sleep which was made into a movie starring Colin Firth and Nicole Kidman; Man Booker Prize winner Ben Okri; Mull Historical Society's Colin MacIntyre and Tim Clare from Aisle 15, who both bring their debut novels, and world-renowned Mexican visual artist Gabriel Orozco. In the children's programme you can still squeeze into Cathy Cassidy, Frank Cottrell Boyce or Lari Don.
Janet Smyth, Director of the Children's and Education Programme said "The programme is really ambitious this year with more writers than before from overseas, live music and performance as well as pygmy goats. We will celebrate 60 years of Miffy and 150 years of Alice in Wonderland. Every subject is covered from biology to astrophysics with guest selector Gill Arbuthnott, the future with Chris Riddell and Paul Stewart, the past with Cathy McPhail, alternative worlds with Andy Mulligan and challenging familial relationships with Natasha Farrant and Arabella Weir. There's discussions, debate, readings and daily drop in activities for all ages. It's ultimately about the joy of reading, of storytelling and sharing ideas.'
All tickets are available from www.edbookfest.co.uk or from the Box Office in Charlotte Square Gardens from 9.30am on Saturday.
Aly Barr, Acting Head of Literature, Creative Scotland, said; "This year's programme offers - as never before - journeys to the Ends of the Earth with a magic carpet of words, thoughts and ideas. The whole Book Festival programme is carefully curated by expert hands: every event is a safe bet; every author a delight and even the smallest of events the first step in a journey to who knows where."
Councillor Richard Lewis, Festivals and Events Champion, City of Edinburgh Council said: "As the world's first UNESCO City of Literature, Edinburgh is world-renowned as a thriving hub for literature. For residents and visitors, this year's Book Festival is going to be another great celebration featuring over 800 writers, poets and playwrights from 55 countries in the beautiful Charlotte Square Gardens. The team at the Book Festival should be commended for yet another inspiring programme packed with great stories for young and old alike."
The Edinburgh International Book Festival runs from Saturday 15 to Monday 31 August in Charlotte Square Gardens in the heart of Edinburgh. Entrance to the Gardens is free and tickets, and full details of the programme, are available from www.edbookfest.co.uk.
-ends-
For further information please contact:
Frances Sutton, Press Manager, Edinburgh International Book Festival
0131 718 5654 or frances@edbookfest.co.uk
More articles