More articles Friday 28 August 2015 9:30am
Chen Guangcheng, has warned that China poses a "threat to humanity"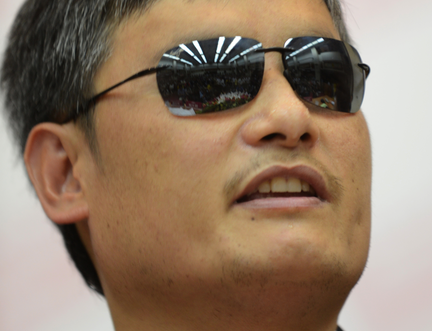 Download PDF
LEADING Chinese human rights campaigner, Chen Guangcheng, has warned that China poses a "threat to humanity" and that if Western democracies did not try to influence the behaviour of the regime, it would eventually change theirs. In an address at the Edinburgh International Book Festival supported by the Scottish Mortgage Investment Trust, Chen also warned that governments needed to understand the true nature of the Communist regime.
"Anyone who thinks they can trust the Communist Party will find themselves cheated in the end, you cannot trust them or place any hope in them whatsoever," he said. "The truth is, in an authoritarian society there is no rule of law to speak of. People outside of China need to recognise the reality of the dictatorship, and to understand and be alert to the fact that it represents a latent threat to humanity and civilised values everywhere."
The activist, who has been blind since he was child, was persecuted by the Chinese state for his work on human rights in rural areas, particularly for women,the dispossessed and disabled. Chen told the audience that corruption had "seeped into every corner" of Chinese society, and the state there was a world apart from "normal forms of government".
He said: "If in time, democratic systems around the world don't find in time, ways to influence the authoritarian regime, the authoritarian regime will come to influence democracies. A qualified lawyer, Chen gained international recognition for organising a landmark class-action lawsuit against authorities in Linyi, Shandong province, for the excessive enforcement of the country's one-child policy. He said that no one, faced with the evidence of the brutal murder of newborn children at the hands of doctors because of the one-child policy, could remain unmoved and not act.
As result of this campaigning work, he was arrested and sentenced in 2006 to four years in prison, and then, on his release, placed under further illegal house arrest with his wife, where he was given no access to outside information, contact or medical help.
The couple faced being transferred into a specially-built prison cell that would house only them, when they managed to escape in 2012. Fleeing to the US embassy in Beijing and eventually to America itself, Chen continues his advocacy work for the Chinese people there.
His account of his life, work and the injustices that he had witnessed has formed the basis of his book, The Barefoot Lawyer. Extending his thanks to the people who have supported him in his work, Chen said that during his imprisonment he had been comforted by the knowledge that the international community was campaigning for him and continued to do so.
"I've never felt I've been alone in my search for justice," he said. "The thing the authorities fear the most is light, they deaf exposure, and methods people use to bring exposure to injustice is something they fear greatly, and I know I've always had a lot of help and support behind me."
More articles