More articles Saturday 27 August 2016 10:35pm
Children's Laureate Chris Riddell Delivers Siobhan Dowd Memorial Lecture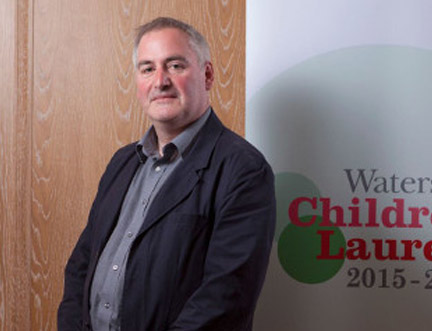 Download PDF
27 August 2016
CHILDREN'S LAUREATE CHRIS RIDDELL DELIVERS THE SIOBHAN DOWD MEMORIAL LECTURE
"There was this extraordinary time when people were paid to go to university," said Children's Laureate Chris Riddell during the Book Festival's popular Siobhan Dowd Trust Memorial Lecture. "It was called a grant." Riddell's personal and entertaining lecture told the colourful story of his career, from a nine year spell as the cartoonist at The Economist to co-writing the hugely popular fantasy series The Edge Chronicles with Paul Stewart and, most recently, illustrating Neil Gaiman's books.
Attending a school where "art was considered a remedial subject" Riddell, who was hopeless at rugby, was persuaded by an art teacher to go to a local art school instead of entering academia. He promptly "ran away" to Epsom School of Art and Design and then a year later found himself back at his old school to accept a prize for English. Asked with which book he wanted to be presented by the headmaster, he opted for Maurice Sendak's Where The Wild Things Are. Instead the headmaster handed Riddell a library copy of Decline and Fall of the Roman Empire by Edward Gibbon. "Outside my art teacher took Decline and Fall… off me and gave me Where The Wild Things Are," he revealed. "And it's still my favourite book."
At Brighton College of Art, Riddell's personal tutor was Raymond Briggs who, at that time, was working on Where The Wind Blows. Every drawing Riddell showed Briggs was pronounced "marvellous!" and Riddell left college puffed up, convinced of his enormous talent, and ready to "audition publishers in London". It didn't quite work out. At that time Riddell was working on a series of giant charcoal drawings depicting scenes from Mervyn Peake's Gormenghast. No one was interested. Eventually a German publisher asked Riddell where his own stories were and that night he began writing them himself.
The title of Riddell's lecture was The Slipping Glimpse, a reference to the painter Willem de Kooning's description of himself as a "slipping glimpser". In Riddell's case he experienced the "slipping glimpse" at a publishing party at London's Serpentine Gallery where everyone's eyes slipped over his name badge before glimpsing away. The only person he got talking to was Paul Stewart, with whom he would co-write the much-loved Edge Chronicles. It was clearly a breakthrough moment in his career. "There was a period between Harry Potter books when JK Rowling took a bit of time off," he modestly joked of the moment when the Chronicles took off. "Many of us working in fantasy fiction called that 'the happy time'."
His fans have grown up with him and are now around 26 "with beards and interesting piercings". Riddell continues to work with Gaiman and is currently working on an opera for 8-year-olds with Glyndebourne. He closed the lecture with a passionate defence of libraries as he held up drawings scribbled in the sketch book he carries at all times and sketched a portrait of a version of himself - Chris Riddle-of-the-sphinx - live for the audience. "A book is not a learning resource," he concluded, quoting Frank Cottrell Boyce. "It's the knife that picks the lock of your isolation."
More articles