More articles Wednesday 26 August 2015 10:20pm
Debut Authors Discuss Their Debut Novels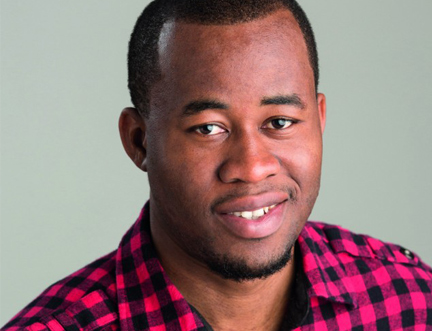 Download PDF
CREATING myths, building landscapes, and the hazard of marathon writing sessions dominated the discussion between debut authors Chigozie Obioma and Simon Sylvester. Speaking at the Edinburgh International Book Festival Obioma, whose novel The Fisherman spins a tale of brothers in small-town Nigeria and has been nominated for the 2015 Man Booker Prize, explained how in his writing he could not separate the landscape of his home country from the mythology that inhabited it.
He said there was general belief in the supernatural among the people, which brought with it a deep superstition. "My mother believed that this [his career as a writer] was pre-determined from a long time ago," he said giving an example, adding that it was important to incorporate this sort of belief system into his writing to reflect the society accurately.
For Inverness-born Sylvester, who now lives in Cumbria, adapting old Scots myths about shape-changing seals called selkies was key to his island murder mystery, The Visitors. The writer admitted that he had been unable to find a single real Scottish island that suited his purposes and had created Bancree as his own far flung setting. In adopting the persona of Flora, a teenage girl desperate to escape the island, as the novel's protagonist, Sylvester said that he "wanted to go on adventure" with The Visitors. To do this, he said, he had wanted to "take myself out of myself" by swapping gender and age.
Obioma explained that contained within The Fishermen there was an allegory of Nigeria's political upheaval of the 1990s, when an abortive attempt at democracy led to military coups and a decade scarred with corruption and civil war. However, the writer, who now lives in America, said that he had written the novel from a position of nostalgia for his home, adding, "If I had been living in Nigeria, I could not have written The Fishermen as I did finally."
Discussing how they had conceived their books, both writers said that the ideas arrived "fully-formed", from beginning to end. They both also confessed to marathon writing sessions in completing their works. Sylvester admitted writing 11,000 words in one sitting to finish The Visitors, leaving him with a repetitive strain injury, while Obioma said that the first draft of his novel was completed in a seven hour stretch of concentrated effort, though it took another four years of "fleshing-out" to finish.
Both authors are eligible for the Book Festival's First Book Award the winner of which is voted for by readers and Book Festival visitors and will be announced in October.
-ends-
More articles