More articles Thursday 23 August 2018 8:56pm
Dull Margaret was an 'absolute delight' for Jim Broadbent.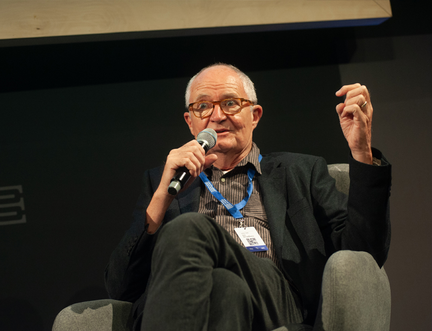 Download PDF
Writing the script for Dull Margaret and seeing it blossom into a graphic novel was an "absolute delight", according to Jim Broadbent. The much loved and respected actor was speaking today at the Edinburgh International Book Festival about his first graphic novel, Dull Margaret, alongside his collaborator, the comic artist Dix, and the writer and editor Daniel Hahn.
"I was so proud of the fact that I had spotted that Dix might be on the same wavelength, and the relationship – which was largely by email, we've only met about five times so far – was so easy, and complete fun," he added.
The character, and story, was initially inspired by Broadbent seeing Bruegel's 16th century painting, Dulle Griet—featuring "a strange mad powerful woman astride the Gates of Hell," he explained. "She looks strong and interesting; and something about her is funny as well. I was just transfixed by that image."
While the title of the painting actually means "Mad Margaret", Broadbent preferred "Dull Margaret" as a title, and – at a time when he didn't have "any interesting acting work" – he developed a script for a short film, in part inspired by his take on the character, the Lincolnshire Marshes of his childhood, and a growing interest in fairy stories.
There were no takers for the film, however; partly, Broadbent now admits, "because I wanted to play the leading lady, and also it fitted no known genre. Over the years there have been various times when I've enjoyed playing women – in sketches, or the National Theatre of Brent show which we brought to the Edinburgh Festival Fringe."
It's the complexity of the character he has come to admire now. "I sympathise with her and empathise with her, and I think most people reading it probably won't, particularly. She is complex; I love people for their complexity. She's seriously damaged, and can be damaging, but I still – particularly with the way Dix has depicted her – have warmed to her and see her as a whole human being.
"I've always loved playing characters, and the more complex and contradictory they are, the more I've enjoyed them. I've played quite a lot of real people, who are infinitely more complex than most fictional characters. I've always enjoyed that."
This is not, however, the beginning of a whole new career for the 69-year-old actor. "I don't really want to write," he admitted, "but I like making up characters. I sometimes sculpt, but I mainly act. That's my priority, and that's what I'll do."
More articles