More articles Wednesday 26 May 2021 12:00pm
Edinburgh International Book Festival Announced Online Schools Programme for 2021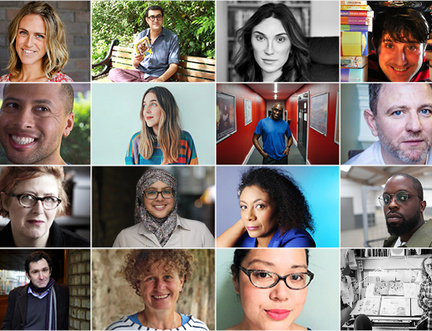 Download PDF
The Edinburgh International Book Festival today announced a fully online programme of live events for primary and secondary school pupils this August. The Baillie Gifford Schools Programme offers daily talks and readings for P1 to S6 pupils from 23 – 31 August all of which are free to view and are accompanied by a learning resource. The popular Baillie Gifford Gala Day for primary pupils returns on 31 August with eight events specially curated for younger audiences. All events can be watched live, with opportunities for pupils to put questions to the authors, or viewed on catch up at a time to suit teacher and class.
Rachel Fox, Children & Schools Programme Director at the Edinburgh International Book Festival, said "We have consulted closely with teachers to shape an online programme that works for them, and their pupils, in the current circumstances. With events exploring a variety of curriculum-led subjects and topics from some of the best authors, illustrators and thinkers writing for children and young people today, taking part in the Book Festival, even on an online basis, is a fun and accessible way to get children engaging with books and stories: exploring the world around them in a creative and thought-provoking way."
Every weekday morning from Monday 23 to Monday 30 August the Book Festival presents a series of 45-minute events featuring readings and conversation with authors including Stonewall ambassador, bestselling author and former PSHE teacher Juno Dawson discussing her new book What's the T? along with special guests including the book's amazing illustrator, Soofiya (S3 – S6). Alex Wheatle, whose Cane Warriors recounts the brutal uprising of slave plantation workers in 1760's Jamaica, is joined by Liz Kessler, whose powerful novel When the World Was Ours follows three young friends on different sides during the Second World War (S1 – S5). Femi Fadugba, Ben Oliver and Jonathan Stroud fictionalise three versions of the future from a world where climate disaster has transformed London into a lagoon, to a prison ruled by all-powerful AI, to Peckham where two teenagers transcend time and worlds to undo violence in this one (S3 – S6).
Brian Conaghan and Patrice Lawrence are two award-winning writers discussing their new novels, Rat and Cardboard Cowboys, which explore the community around us and how we all make judgements about others, sometimes without even realising (P7 – S1). Patrice Lawrence, Dean Atta and Yomi Sode, three of the writers who have contributed their heartfelt stories, launch Happy Here, a brilliant new anthology of stories from Black British authors and illustrators (P7 – S1). Finally on Monday 30 August, writer and activist Gina Martin talks about activism and why it is so important (S2 – S4).
On Tuesday 31 August, the Baillie Gifford Gala Day presents eight 30-minute events for Primary pupils from P1 to P7 hosted by Scottish children's writer Pamela Butchart. Sally Gardner talks about her Tindims series, featuring tiny creatures who turn our rubbish into their own treasures (P1 – P3). Maisie Chan reads from her hilarious and warm-hearted book about Danny who loves drawing and hates Maths (P5 – P7). Poet Joshua Seigal reads from his latest collection (P1 – P3) and Abi Elphinstone talks about the real-life adventures and accidental daydreams behind her books as well as introducing her latest – The Crackledawn Dragon (P4 – P6). Author, illustrator and environmentalist Neal Layton shows his audience how every plant and animal on earth is part of an amazing web of life (P1 – P3) while Chae Strathie steps into the past as he illustrates exactly what life was like for a kid in the Aztec age (P3 – P5). Award-winning author Onjali Q Raúf introduces her new book The Great (Food) Bank Heist which explores themes of food poverty and food banks, while celebrating kindness and friendship (P4 – P6) and finally David MacPhail reads from the first book in his action-packed new series, Velda the Awesomest Viking and the Voyage of Deadly Doom (P2 – P4).
Michelle McLeod, Sponsorship Manager at Baillie Gifford, said "The Baillie Gifford Schools Programme, along with the Children's Programme, are important elements of the festival and offer a range of engaging and inspiring events for young people. The online delivery of the programme provides an opportunity for more schools and families to engage with the festival, encouraging young readers to continue learning through stories. This year's Schools Programme is packed with events that will help children better understand the world around them, with plenty of opportunity to enhance their creative skills and hear directly from some of our most celebrated children's authors and illustrators. As long-term supporters of the festival, inspiring the next generation of readers and thinkers remains at the heart of our sponsorship."
There is an opportunity for teachers to register their class and receive a free book for every pupil watching an event in the Baillie Gifford Schools Programme. For each event five lucky classes will receive a book for every pupil, and every school that registers will be given a selection of books for their school library. The Book Festival is also offering 25% off any books ordered by schools through its independent online bookshop. Teachers can find the specially created Schools page at shop.edbookfest.co.uk/schools to browse books in the programme and receive 25% off all orders. The offer applies to all books featured in the Baillie Gifford Schools Programme and the Baillie Gifford Children's Programme and is valid until 30 September 2021.
The Edinburgh's International Book Festival's Baillie Gifford Schools Programme runs from Monday 23 August to Tuesday 31 August. All events are online and free to view either live (with a Q&A facility) or on catch up. Registration is open from early July but full details of the Schools Programme, and guidance for registration and booking for teachers can be found online now at learning.edbookfest.co.uk.
The Edinburgh International Book Festival public programme runs from Saturday 14 to Monday 30 August. Audiences can enjoy live events online at edbookfest.co.uk and chat with fellow audience members from the comfort of their own homes or stop by in-person at the Book Festival's new home – the University of Edinburgh's Edinburgh College of Art on Lauriston Place. The full public programme is announced in early July.
More articles