More articles Thursday 15 February 2018 11:15am
Edinburgh International Book Festival Appoints New Head of Booksales & Retail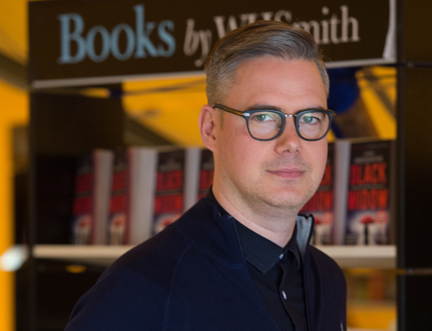 Download PDF
Organisers of the Edinburgh International Book Festival today announced the appointment of Simon Mackay as the new Head of Booksales and Retail for the Festival. Simon will follow in the footsteps of James Shaw, who stands down this year.
The Book Festival owns and operates two large pop-up shops within Charlotte Square Gardens, including the largest speciality Children's Bookshop in Scotland, and last year created a new shop on George Street for the first time as part of the Book Festival's expansion out of the Gardens. The Bookshops achieve sales of over 60,000 books over the 18 days of the Festival each August, and along with Hay Festival are the only two independent Festival bookshops whose sales figures are accepted by Nielson Bookscan.
Simon has been a bookseller for High Street and independent retailers for 15 years. He has been a buyer, bookshop manager, and currently leads a nationwide programme of events for WHSmith with a focus on non-fiction lifestyle authors. He is also a member of the World Book Day exec and is involved with other literary charities.
Nick Barley, Director of the Edinburgh International Book Festival, said "Simon started his career as a bookseller in Edinburgh and it's great that he's returning to Scotland's capital city to take up one of the most unusual and stimulating jobs in British bookselling. He inherits an exceptionally well-run operation from James Shaw; and I'm confident that Simon will inject thrilling new ideas and initiatives that catapult the Book Festival's retail operation to even greater success.'
Simon Mackay said "I am delighted to be joining the team at Edinburgh International Book Festival. It's a privilege to be working in such a vibrant and audience-centred part of the books world, and I cannot wait to get started."
Simon takes up his position on 12 March 2018 and can be reached on simon@edbookfest.co.uk.
More articles