More articles Friday 29 January 2016 3:00pm
Edinburgh International Book Festival Awarded Extra 25k From People's Postcode Lottery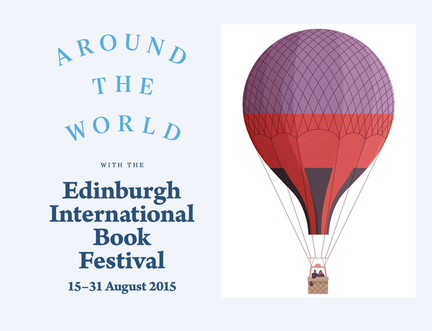 Download PDF
Edinburgh International Book Festival is delighted to announce that players of People's Postcode Lottery have awarded an extra £1.425 million to long-term supported charities. Edinburgh International Book Festival is one of 57 charities that will receive the extra £25,000 award from players of the charity lottery.
Edinburgh International Book Festival received the news of the additional funding at the 2016 People's Postcode Lottery Charity Gala. The event, which took place on Thursday 28 January at the Assembly Rooms in Edinburgh, was a celebration of the hard work achieved by charities supported by players of People's Postcode Lottery.
The event was attended by First Minister Nicola Sturgeon, leading human rights advocate Shami Chakrabarti and Dame Ellen MacArthur.
Support from players of People's Postcode Lottery has enabled Edinburgh International Book Festival to develop a wide-ranging programme of exciting literature events and activities outwith Charlotte Square Gardens which focuses on instilling a love of books and an enjoyment of reading for all levels of ability, all ages and all communities.
Nick Barley, Director of the Edinburgh International Book Festival, said "At the heart of the Book Festival is a holistic and integrated approach which aims to expand participation in literature and develop highly engaged, knowledgeable audiences. The vast majority of our events – for all ages – are participatory, making the Book Festival one of the leading forums for interaction, debate and discussion.
"Support from players of People's Postcode Lottery has helped us to create our new Booked! programme, which replicates these forums across Scotland and offers a vibrant new outreach and learning initiative for adults, young people and children in their own communities, giving greater numbers of people access to authors and live literature events across the country."
Clara Govier, Head of Charities at People's Postcode Lottery, said: "As People's Postcode Lottery continues to grow the amount that our players award to good causes continues to increase. We are very proud that our players can continue to support the development of the Book Festival, giving many more people the opportunity to enjoy and benefit from its valuable work."
This additional funding comes at a very exciting time for the charity lottery as they mark 10 years since the first ever draw. The last 10 years have created thousands of lucky winners but also have provided vital funding for numerous charities across Great Britain and internationally. A minimum of 27.5% is awarded to charities and good causes with over £99.6 million awarded to date.
The Edinburgh International Book Festival is the largest public celebration of books in the world, with 800 authors from over 40 different countries appearing in around 750 events every August in Charlotte Square Gardens and a year-round programme of events in communities outside Edinburgh. The 2016 Festival will run from 13 to 29 August and full programme details will be announced on 9 June 2016.
NOTES TO EDITORS
About People's Postcode Lottery
People's Postcode Lottery is a charity lottery. Players play with their postcodes to win cash prizes while raising money for charities and good causes across Great Britain and globally
People's Postcode Lottery is an External Lottery Manager and manages multiple society lotteries promoted by different causes supporting a range of charities. For details on which society lottery is running each week, visit www.postcodelottery.co.uk/society
Postcode Lottery Limited is regulated by the Gambling Commission under certificate nr 000-000829-N-102511-010 and 000-000829-R-102513-009. Registered office: Titchfield House, 69/85 Tabernacle Street, London, EC2A 4RR
People's Postcode Lottery players support the following Trusts – Postcode African Trust, Postcode Animal Trust, Postcode Care Trust, Postcode Children Trust, Postcode Community Trust, Postcode Culture Trust, Postcode Dream Trust, Postcode Earth Trust, Postcode Global Trust, Postcode Green Trust, Postcode Heroes Trust, Postcode Local Trust, Postcode Planet Trust, Postcode Support Trust, People's Postcode Trust and Postcode Sport Trust. These Trusts are funded entirely by players and support a variety of good causes. For further information on each charity, visit: www.postcodelottery.co.uk/charities
55p from every £2 ticket goes to good causes and players have raised £95.3Million for good causes across the country
There are five draws a month with prizes every day and each ticket costs £2 – paid monthly in advance by direct debit. For further prize information, visit: www.postcodelottery.co.uk/prizes
Maximum amount a single ticket can win is 10% of the draw revenue to a maximum of £400,000
Players can sign up by Direct Debit, credit card or PayPal online at www.postcodelottery.co.uk, or by calling 0808 10-9-8-7-6-5.
More articles