More articles Friday 12 July 2013 3:15pm
Edinburgh International Book Festival Celebrates Scotland's Independent Comics Creators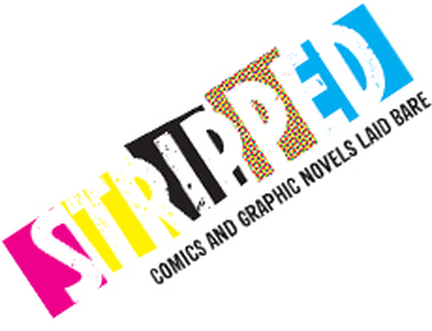 Download PDF
Some of the most exciting creators in Scottish independent comics will showcase and sell their work at the Edinburgh International Book Festival's first Stripped Mini Comic Fair this August.
Stripped is a major new strand for the Book Festival dedicated to comics, graphic novels and the people who create them. Focused over four intense days, more than forty events welcome legends including Neil Gaiman, Melinda Gebbie and Grant Morrison; international stars Joe Sacco, Rutu Modan and Chris Ware; emerging talent such as Will Morris, Gareth Brookes and Jon McNaught and the creators of great British institutions The Beano and 2000 AD to Charlotte Square Gardens. Stripped is supported by the Scottish Government's Edinburgh Festivals Expo Fund.
The Mini Comic Fair is a two day celebration of the vibrant and diverse Scottish comics scene. Entry is free of charge, and visitors will discover the incredible scope of work on show featuring everything from the exhilarating world of roller derby to witty and poignant reflections of new fatherhood; thrilling horror and family adventure stories.
The impressive line-up of exhibitors includes:
Team Girl Comic, The Houdini Box, Weevil Productions, Metaphrog, Jane McGuinness, Stephen Goodall, Edward Ross, Poison Pixie Publishing, Tom Kindley, Dominic Kesterton, Emma Ahlqvist, Sophie Bryant, Jiwon Shin, Hannah Botma, Emily Cullen, Braw Books, David Kerr, OR Comics, Kathryn Briggs, Craig Collins, Roller Grrrls, Coll Hamilton, Carolyn Alexander, CCT-Art, Rebecca Tobin, Cat O'Neil, Black Hearted Press, Never Ever After and Neil Slorance.
The Mini Comic Fair will take place in 5 Charlotte Square, just across from the Book Festival in Charlotte Square Gardens, and is open from 11.00am to 6.00pm on Saturday 24 and Sunday 25 August. More information on all Stripped events and Mini Comic Fair exhibitors can be found at www.strippedbookfest.co.uk and by following @strippedfest on twitter.
More articles