More articles Monday 31 August 2015 2:15pm
Edinburgh International Book Festival Closes The Chapter on its Most Successful Programme To Date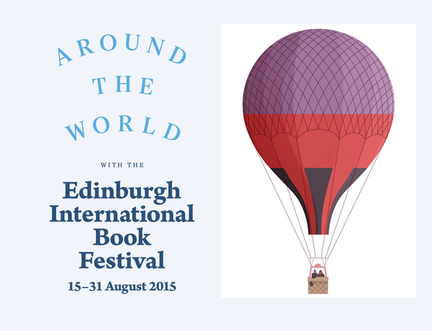 Download PDF
The Edinburgh International Book Festival closes tomorrow (Tuesday 1 September) having enjoyed the most successful year in its history. Over the last 17 days, the Book Festival has welcomed over 800 authors from 55 countries taking part in almost 800 events. Audiences enjoyed sessions with Reverend Jesse Jackson, Alan Cumming, Val McDermid in conversation with the First Minister, Nicola Sturgeon who publically stated her belief in the importance of reading, nine of the thirteen authors nominated for the 2015 Man Booker Prize, and 56 debut novelists including Celia Imrie, Chigozie Obioma, Jesse Armstrong and Anna Smaill. Performance poets Kate Tempest and George the Poet received standing ovations from sell-out audiences as did Scottish musician Edwyn Collins and his wife Grace Maxwell who were interviewed by Ian Rankin.
The Baillie Gifford Children's Programme featured Cressida Cowell who previewed the last instalment in her How To Train Your Dragon series, Brenton McKenna making his first ever trip outside Australia, and comedian Julian Clary introducing his first children's book. The new book by French graphic novelist Barroux was translated into English for the first time with visitors to the Book Festival taking an active part. Almost 13,000 school children from primary and high schools across Scotland and the north of England have enjoyed events in the Gardens, and as part of its Booked! Programme of events the Book Festival has taken authors to 53 schools, libraries, theatres and prisons to reach audiences who were unable to come to Charlotte Square Gardens.
Nick Barley, Director of the Edinburgh International Book Festival, said "We've enjoyed a truly brilliant, exuberant and record-breaking festival this year – our most successful ever with record ticket and book sales. After the referendum in 2014 I wanted to cast our gaze a little further and look at Scotland's place in the wider world. It is an important time for us to look at our relationships with other cultures, languages and countries and we invited an extraordinary range of writers to share this with us. Our audiences have embraced this, welcoming authors who have never been translated into English before, and engaging in a series of unforgettable conversations. And the conclusions were always the same: Scotland is an outward-looking, open-minded nation."
In the most international programme the Book Festival has ever presented, authors explored the concept of Trading Stories, and in pairings of international and British writers examined how stories cross borders, languages and cultural barriers. The Festival introduced authors not yet published in English including seven of Mexico's outstanding writers and poets, and authors from the Innu people of Northern Canada. Raja Shehadeh's hugely successful series of events in 2014 examining the past, present and future of the Middle East resulted in the publication and launch at the 2015 Festival of Shifting Sands, a collection of essays from the 15 participating writers who live and work throughout the area. Trading Stories is supported by the Scottish Government's Edinburgh Festivals Expo Fund.
The Cabinet Secretary for Culture, Europe and External Affairs, Fiona Hyslop said, "The Edinburgh International Book Festival continues to go from strength to strength bringing great writing to thousands of people each year. This year's international theme showed how literature is important to not only to culture but for discussing important ideas. Through our Edinburgh Festivals Expo Fund we supported the 'Trading Stories' theme, woven throughout the Book Festival, which demonstrated how stories and language transcends boundaries."
56 debut novels and short story collections were featured in the 2015 Book Festival programme from as far afield as New Zealand, Australia, Austria, Finland, Mexico and Iceland. All are eligible for the Festival's First Book Award and readers and visitors to the Book Festival are invited to vote for their favourite through the Book Festival website until Friday 16 October – https://www.edbookfest.co.uk/the-festival/first-book-award
The Book Festival's late night Jura Unbound events included Edinburgh hip hop artists Stanley Odd, Julia and Malcolm Donaldson who persuaded their audience to join in a grown up Squash and a Squeeze, theremins and sitars, Italian dancing and readings from Man Booker Nominee Marlon James, Etgar Keret and Dan Gunn.
With around 225,000 visits this August Charlotte Square Gardens were busy with visitors attending events, browsing the Bookshops and relaxing in the cafes and Gardens. Ticket sales in 2015 increased by 2% (on a comparative capacity to 2014) and book sales were up by 5% - the highest ever sales in the Book Festival's 32 year history.
Councillor Richard Lewis, Edinburgh's Festivals and Events Champion, said: "You could really feel a buzz in the air in Charlotte Square Gardens and I am sad to see this year's Festival draw to a close. The 2015 programme has been yet another great success for the Book Festival and with over 800 writers, poets and playwrights from 55 countries, it has been one of the biggest and most international stagings yet. The Capital's reputation as a thriving hub of literature is a key part of our culture and heritage. Every year, the team at the Edinburgh International Book Festival manage to build on that standing even more."
Aly Barr, Acting Head of Literature at Creative Scotland said: "With an international programme spanning the globe, Charlotte Square Gardens 2015 was the place that launched a thousand trips. With an admirable range of guest programmers the Festival offered an escape from reality while at the same time encouraging spirited debate beyond the confines of Charlotte Square Gardens. This year's programme spanned everything from global affairs and British politics to fairy tales, sharks and mental health and Jura Unbound's wonderfully diverse showcase of the best of Scottish spoken word was - once again - a huge success. Book lovers left with ideas, knowledge and stories."
The 2016 Edinburgh International Book Festival will take place from Saturday 13 to Monday 29 August and the programme will be announced in June. Audio and video from events in the 2015 Book Festival, including George the Poet, Etgar Keret and Alain Mabanckou, Reverend Jesse Jackson, Limmy and Viv Albertine in conversation with Ian Rankin, are now available on the website with more to be released over the coming months (www.edbookfest.co.uk). A range of events which were live streamed on BBC Arts Online during the Festival are now available on i-player. (http://www.bbc.co.uk/arts)
Ends
More articles