More articles Friday 08 August 2014 10:00am
Edinburgh International Book Festival opens tomorrow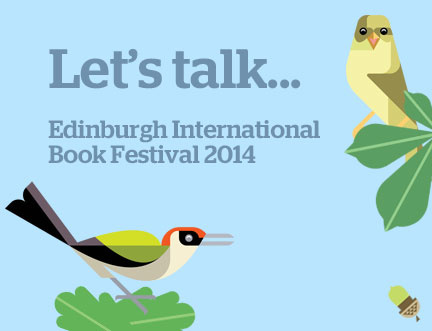 Download PDF
The Edinburgh International Book Festival opens its doors tomorrow morning and, under the headline 'Let's Talk', welcomes over 900 internationally-renowned writers and thinkers from 47 countries around the world to Charlotte Square Gardens to discuss such diverse topics as the Middle East, two world wars, the Commonwealth, economic migration, society, identity and the future of Scotland.

Nick Barley, Director of the Edinburgh International Book Festival said 'The Book Festival provides a crucial forum for dialogue, where we can listen to and learn from one another, particularly in this year of momentous events in Scotland. Our thought-provoking conversations with both authors and audiences will permeate through Charlotte Square Gardens as we welcome writers and thinkers from many countries and cultures to Edinburgh, some for the first time in their careers. We offer a platform for emerging voices that are set to shape the world's literary stage in years to come and launch some of the most talked-about books of the year. Come and join us for a stimulating, entertaining, endlessly fascinating Festival.'

A number of events have already sold out: George R R Martin, author of the Game of Thrones series and Haruki Murakami, who makes his first trip to Edinburgh to launch the English edition of his latest novel Colorless Tsukuru Tazaki and His Years of Pilgrimage, proved exceptionally popular and sold out within hours while two later additions to the Scotland's Future strand of events – talks by First Minister Alex Salmond and former Prime Minister Gordon Brown - also sold out immediately. However there are still tickets for events throughout the programme including Rowan Williams launching his new book of poetry, Kirsty Wark discussing her debut novel, Sarah Waters previewing her new book, Irvine Welsh, David Peace, Katy Brand, James Robertson, Bonnie Greer and many others.

The Edinburgh International Book Festival opens at 9.30am this Saturday 9 August and continues until Monday 25 August 2014. Full details of the programme can be found at www.edbookfest.co.uk. Tickets to all events can be purchased online at www.edbookfest.co.uk, by phone on 0845 373 5888 or in person at the Box Office in Charlotte Square Gardens (from Saturday 9 August).

More articles