More articles Tuesday 13 June 2017 12:00pm
Edinburgh International Book Festival's Children's Programme Tackles Brave New Words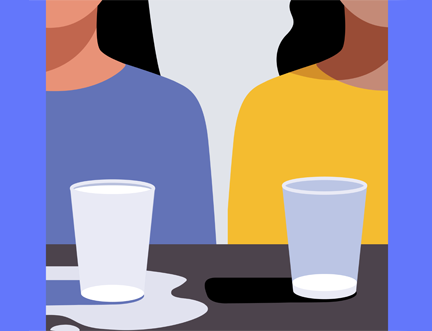 Download PDF
As Edinburgh celebrates 70 years as the Festival City, today the Book Festival announced details of its 2017 Baillie Gifford Children's programme. With 225 events, 31 book launches, and authors from around the world, the mix of personal stories and global concerns from both international and home grown voices offers an extraordinary showcase of contemporary writing for children and young people. This year the Book Festival explores everything from coming of age, identity, diversity, the environment and migration to dinosaurs, pirates and ponies.
Janet Smyth, Director of the Children and Education Programme, said, "The breadth and scope of books for children and young people has seen a phenomenal evolution over the last 70 years, demonstrating the freedoms, diversity and plurality of contemporary young lives. Children's publishing is where the boundaries are being pushed and taboos broken. It's an exciting time to both write and read books for young people and they have the power to develop empathy, understanding and ultimately tolerance of different beliefs, values and views. Children and young people use fiction as a framework for exploring difficult stories and challenging truths and writers and illustrators are rising to this challenge and taking on the big topics as well as finding new ways to tell a story."
Cressida Cowell, bestselling author of How to Train Your Dragon, presents the first in her much-anticipated new series The Wizards of Once, full of wizards, warriors and dark magic and she will also discuss the importance of crafting stories that children want to read in The Siobhan Dowd Trust Memorial Lecture. Julia Donaldson, together with illustrator Axel Scheffler, launches The Ugly Five, a celebration of some overlooked and unloved animals and Anthony Horowitz returns with his long-awaited new Alex Rider thriller, Never Say Die.
There is a new adventure for Sir Charlie Stinky Socks to celebrate his 10th birthday and his creator, and 2017 Illustrator in Residence, Kristina Stephenson will lead a series of events including a performance and a free Big Draw for budding artists of all ages. Patrick Ness introduces his sexual awakening novel Release, a book he wishes he could have read as a teenager, and, in his first book for children, actor and comedian Adrian Edmondson explores family, grief and loss in a time-travelling adventure.
TV presenter Clare Balding has created The Racehorse Who Wouldn't Gallop, an uplifting tale of trust and endeavour. BBC Radio 1 DJ Greg James has co-authored superhero novel Kid Normal with newsreader Chris Smith where an ordinary boy discovers his inner strength when he is sent to superhero school. Olympian Chris Hoy introduces his cycling adventure series Flying Fergus, where teammates work together to peddle their way to victory and Sarah Crossan and Brian Conaghan tell a story of friendship and self-determination in We Come Apart, created using the digital platform WhatsApp.
2017 is an anniversary year for many well-loved children's favourites; there are events to celebrate 20 Years of Harry Potter Magic, 10 Years of Tyrannosaurus Drip, 75 years of the Famous Five, Dear Zoo turning 35 and 60 years of The Cat in the Hat.
Events in the two new venues in George Street, The Greenhouse and Bosco Theatre, include A Piece of You, where composer Greg Sinclair responds to the stories of his audience by creating a personal piece of music in every session. Children can learn how to tell enchanting stories with Pam Wardell and Grinagog Theatre provides interactive fun for young people in Row Your Boat.
Environment and climate change are explored through performance in A Stone's Throw by Giddy Aunt Theatre and in the events around the books Welcome by Barroux, the Little Adventurers series by Philip Ardagh and Bottle of Happiness by UK and Iranian duo Pippa Goodhart and Ehsan Abdollahi. Australian writer Bronwyn Houston will host a collage workshop bringing to life the prehistoric past and animals of her home country, inspired by her book Return of the Dinosaurs.
The Tea, Cake and Tales series of events has grown, this year including colouring-in with Eilidh Muldoon and Eric Broug who brings his Islamic Design Workbook. Geek Girl creator Holly Smale says farewell with Forever Geek, the last book in the series; the artistic world of Pre-Raphaelites is explored in Sophia Bennett's Following Ophelia and Natasha Farrant's Lydia: The Wild Girl of Pride & Prejudice is a witty re-imagining of Jane Austen's classic book.
In the Writing for Resilience workshop author Alice Broadway demonstrates that good mental health can be aided by using creative writing as a tool for articulating anxieties and fears. Debut authors Chloe Daykin and Maz Evans present Fish Boy and Who Let the Gods Out – two hilarious yet moving tales of youngsters who find themselves the primary carer for very ill parents. Debi Gliori shares her experience of depression in the beautiful Night Shift, while in Thornhill Pam Smy builds an emotional connection between two people separated by time but drawn together by place; both authors expressing themselves through beautiful black and white drawings.
Gender politics and how it is explored in children's fiction will be the topic up for debate by fantasy writers Jonathan Stroud, Kathryn Evans and David Levithan in The Great Gender Debate. Migration is discussed in an insightful and sympathetic way in Vanessa Altin's The Pomegranate Tree, a beautiful and hopeful account of war-torn families, and in A Story Like the Wind by Gill Lewis refugees share their stories from a spinning boat in the middle of the sea. In Elizabeth Laird's Welcome to Nowhere Omar is forced to flee his home in Syria because of the devastating civil war.
Running from Saturday 12 to Monday 28 August 2017 the Book Festival receives funding from Creative Scotland and the City of Edinburgh Council and this year welcomes over 1000 participants from 50 different countries to Charlotte Square Gardens and George Street. Entrance to the Gardens and George Street is FREE, and all cafes, bookshops and venues are fully accessible.
Full details of the 2017 Book Festival programme can be found at www.edbookfest.co.uk. Tickets to all events go on sale at 8.30am on Tuesday 20 June 2017, online at www.edbookfest.co.uk, by phone on 0845 373 5888 or in person at the Box Office at the Edinburgh International Conference Centre (on Tuesday 20 June only, thereafter at The Hub, Castlehill).
Additional Highlights
Michael Rosen performs his wonderful YouTube sensation Chocolate Cake, published as a picture book for the very first time.
Writer and former actor Vivian French and 2017 Illustrator in Residence Kristina Stephenson will create, with the help of their audience, a one-off play full of laughter, props and music all based on Sir Charlie Stinky Socks: The Really Big Adventure.
Scottish theatre maker Ishbel McFarlane's Plan is an interactive show about utopias and creating homes for refugees which offers a thought-provoking spin on how countries are reshaped following conflict.
Part of Stripped 2017, The Little Mermaid by Metaphrog is a new, beautifully illustrated version of the Hans Christian Andersen classic.
Comedian, entertainer and novelist Julian Clary and illustrator David Roberts bring their hilarious third instalment of animal madness in The Bolds On Holiday.
Adam Hargreaves, son of the Mr Men creator, presents the first book in his whimsical series Molly Mischief: My Perfect Pet where he questions whether elephants make an ideal pet?
Dads Rock, who run playgroups across Edinburgh for kids and their rock-loving dads, are coming to the Festival for the first time with their blend of stories, rhymes and songs.
Writer and historian David Long will enthral his audience with his beautifully illustrated anthology Survivors, full of incredible, real-life stories of extreme survival including The Man Who Sucked Blood from a Shark and other thrilling tales.
Artist David Powell will create a giant PoeTree willow sculpture in the gardens inviting young people to write their own poems to adorn the branches.
Nicci Cloke and Scottish author Cathy MacPhail have both used the style of text messages and chat room forums in their latest spine-tingling thrillers Close Your Eyes and Between the Lies.
Festival favourite Nick Sharratt live draws the lavish illustrations from his latest book The Cat and the King and shares his secrets for creating colourful characters.
More articles