More articles Sunday 22 July 2012 12:00pm
Final line-up announced for Writers' Conference events at Edinburgh International Book Festival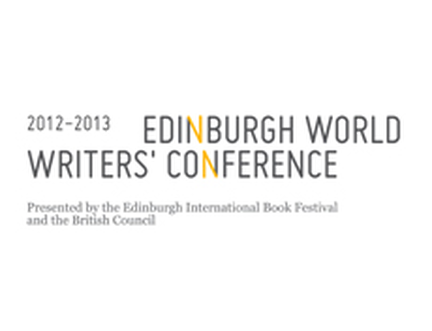 Download PDF
The Edinburgh International Book Festival today announced the delegates who will attend sessions in the Edinburgh World Writers' Conference this August. The Edinburgh events of this worldwide conference, which is an ambitious programming partnership between the Edinburgh International Book Festival and the British Council, will involve 50 delegates from 25 different countries discussing and debating the role of fiction in society with a public audience, who will have a unique opportunity to meet this stellar line up of world renowned writers and join in the debate.
Every day, from Friday 17 August to Tuesday 21 August, the conference will discuss a topic originally tabled at the seminal 1962 Edinburgh Writers' Conference, in front of an audience who will then be invited to join the debate. On Friday 17 August eminent Egyptian writer, Ahdaf Soueif will ask Should Literature Be Political? in a session chaired by leading Turkish author, Elif Shafak. On Saturday 18 August Ali Smith will address Style vs Content in an event chaired by American writer Nathan Englander and on Sunday 19 August Scotland's own Irvine Welsh will discuss whether there should be A National Literature? with Ian Rankin. On Monday 20 August Patrick Ness will tackle Censorship Today and freedom of speech moderated by Belgian-Nigerian author Chika Unigwe and, to close the conference on Tuesday 21 August, science fiction and fantasy writer China Miéville will address The Future of the Novel in a session chaired by Denmark's Janne Teller.
A further 40 delegates, from as far afield as Pakistan, Russia, Australia and the Dominican Republic, will join the keynote speakers and the public audience to debate the daily topic and to discuss how writing and the imagination are an essential component of society today. Internationally renowned authors including Dag Solstad from Norway, Xi Chuan and Xiaolu Guo from China, Jose Rodridgues dos Santos from Portugal, Samar Yazbek from Syria and Andrei Astvatsaturov from Russia, who will all be appearing exclusively at the Writers' Conference, will be joined by leading British writers including Ben Okri, Nick Laird, Owen Sheers, John Burnside and Jackie Kay.
Nick Barley, Director of the Edinburgh International Book Festival said, "The Writers' Conference is a fantastic opportunity for Edinburgh audiences to meet and mingle with a phenomenal line up of international authors, and to get involved in a debate which we believe will reverberate around the globe."
Susie Nicklin, British Council Director of Literature, said "In 1962 the British Council participated in the Writers' Conference by bringing delegates from around the world to Edinburgh. It is fitting that in this Olympic year when we are co-convening a meeting of international culture ministers in Edinburgh we should also be taking literary debate out to the world from the UK. We are looking forward to infusing the global conversation with the traditional wit and engagement of Edinburgh's lively audiences."
Edinburgh World Writers Conference Sessions at the Edinburgh International Book Festival run from 3.00pm to 5.00pm daily from Friday 17 to Tuesday 21 August. Tickets, priced at £10 (£8 concessions) are available from www.edbookfest.co.uk or through the Box Office on 0845 373 5888. Each session will also be broadcast live on-line on www.edinburghworldwritersconference.org.
More articles