More articles Thursday 18 January 2018 10:00am
First Minister to Join Line-Up For Muriel Spark: Crème de la Crème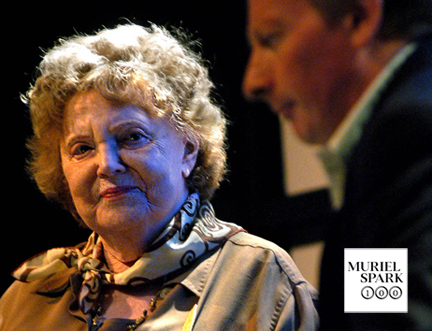 Download PDF
Organisers of the Edinburgh International Book Festival today confirmed the final line-up for Muriel Spark: Crème de la Crème, an event celebrating the centenary of the birth of Muriel Spark, one of Scotland's greatest writers. Nicola Sturgeon, First Minister and great fan of Spark's writing, and Alexander McCall Smith will join Ian Rankin, actors Maureen Beattie, Peter Forbes and Moyo Akandé, Alan Taylor (her great friend, literary critic and author of Appointment in Arezzo: A Friendship with Muriel Spark) and Rosemary Goring (literary editor, author and adapter of A Far Cry from Kensington for radio), in a specially commissioned presentation of readings, performance and conversation at the Usher Hall on Wednesday 31 January 2018.
Alexander McCall Smith will read a poem he has specially written for the occasion, and for the first time since 1963, Spark's play Doctors of Philosophy will be presented on stage through performed extracts featuring Maureen Beattie, Peter Forbes and Moyo Akandé. The performances are directed by The Lyceum's Artistic Director, David Greig.
Presented in partnership with The Royal Lyceum Theatre Edinburgh and Birlinn, Muriel Spark: Crème de la Crème will explore the life and work of the author who wrote 22 novels, including the world renowned The Prime of Miss Jean Brodie. Spark, who made her final visit to Edinburgh to appear at the Edinburgh International Book Festival in 2004, was also a poet, playwright, essayist and literary critic whose work has influenced a generation of Scottish writers. Muriel Spark: Crème de la Crème is part of Muriel Spark 100 and the Book Festival's Booked! Programme of events supported by players of People's Postcode Lottery.
Muriel Spark: Crème de la Crème will take place at 7.15pm on Wednesday 31 January in the Usher Hall, Edinburgh. The event will last 90 minutes and will be followed by a book signing where the first 7 newly published Centenary Editions of Muriel Spark's 22 novels will be available to buy. Stalls and Dress Circle seats are Sold Out, however limited Upper Circle seats (priced £12) are still available through the Usher Hall Box Office, online through www.usherhall.co.uk or telephone 0131 228 1155.
Booked!, the Edinburgh International Book Festival on the road around Scotland throughout the year, is supported by players of People's Postcode Lottery. This event is part of Muriel Spark 100 centenary programme. More information on www.murielspark100.com
More articles