More articles Monday 27 October 2014 9:30am
First short story collection wins 2014 Edinburgh International Book Festival's First Book Award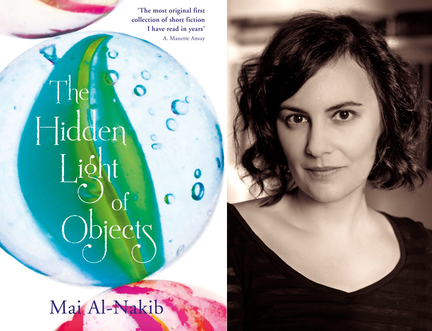 Download PDF
Kuwaiti author, Mai Al-Nakib, was today announced as the winner of the 2014 Edinburgh International Book Festival's First Book Award with her debut collection of short stories, The Hidden Light of Objects. This debut collection of personal, poetic stories explores adolescent love and yearnings for independence, the fragility of marriage and the void left by childlessness – and the uncanny power of objects to reveal memories and tell stories.
Mai Al Nakib said 'I am incredibly grateful for this award. It was a tremendous honour to be included among the stellar group of 47 writers nominated for the Edinburgh International Book Festival's First Book Award. This was my first time at the fantastic Book Festival, and I can't thank the organisers enough for their support. To be surrounded by people who care so much about books, ideas, and writing was inspiring. To have my book selected by readers is especially gratifying and encouraging. It means so much to know that readers from all over the world are connecting with The Hidden Light of Objects. This award is especially meaningful to me because it is my first and because it comes from Edinburgh, the city I spent some time in when I was a baby. It has been part of my personal narrative for so long – I was born in Kuwait, spent a few months in London, and then in Edinburgh, before moving to St. Louis, Missouri when I was two – that winning an award from this city's Book Festival feels like I've come full circle. I couldn't be more thrilled.'
The First Book Award encourages the Book Festival audience to discover the wealth of debut fiction featured in the Festival Programme each year and vote for their favourite. Every one of the 47 adult and young adult writers who brought their debut novel, novella or short stories to Edinburgh in August, including those whose work was published in English for the first time, was eligible for the Award. Readers and Book Festival audiences could vote at the Festival or online and over 2,200 votes were received by the closing date. Every book eligible for the Award received at least one vote.
Nick Barley, Director of the Edinburgh International Book Festival, said 'This is an extraordinarily moving and assured debut collection depicting the lives of ordinary people in a region of the world that is high on the news agenda. I am excited that our audience chose a collection of short stories for the first time in the history of our First Book Award. Al-Nakib's strikingly assured stories range from the moving account of a Palestinian teenager who inadvertently becomes a suicide bomber, to a nostalgic depiction of 1960s Beirut before it was ravaged by conflict. Melancholy and yet full of hope, they add up to a delicately devastating portrait of the Middle East, the like of which has perhaps never before been rendered in the English language. This book, and its huge endorsement in this public vote, heralds the arrival of a rising literary star.'
The Hidden Light of Objects, published by Bloomsbury Qatar Foundation Publishing (BQFP), is a collection of short stories that peels away the private struggles of adolescence, marriage and middle age, with a unique Kuwaiti-American perspective. The recent history of the Middle East - the Iraqi invasion of Kuwait, the US occupation of Iraq, the Israel-Palestine conflict – provides the backdrop for the stories which take a quiet look at the lives of ordinary people living in the region.
Thalia Suzuma of BQFP said 'Bloomsbury Qatar Foundation Publishing strives to bring the very best of Arab writing to the widest possible audience. Books, unlike writers, need no visas, and Mai's achievement at Edinburgh bears witness to the fact that good writing can travel far and can resonate with audiences across the globe.'
Mai Al-Nakib was born in Kuwait in 1970. She holds a PhD in English Literature from Brown University in the USA and teaches postcolonial studies and comparative literature at Kuwait University. She lives in Kuwait and is currently writing her first novel.
The authors eligible for the 2015 First Book Award will be announced in June 2015. Full details of all nominees for this year's First Book Award can be found at www.edbookfest.co.uk/the-festival/first-book-award
More articles