More articles Monday 27 August 2018 7:05pm
Future Success of India is in Services Sector, says Professor Lord Nicholas Stern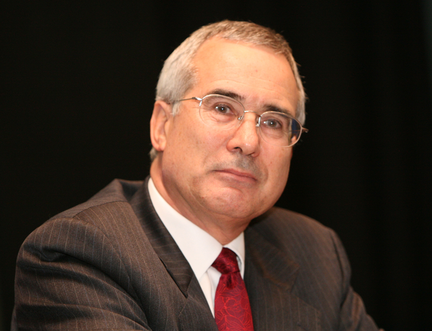 Download PDF
India is about 30 years behind China when it comes to economic growth, and the driver going forward will be its services sector, according to Professor Lord Nicholas Stern. The economist, academic and author was today speaking with the journalist and broadcaster Liz Leonard at the Edinburgh International Book Festival.
Lord Stern was talking about How Lives Change, the new book he has co-written with academics Himanshu and Peter Lanjouw about the North Indian village of Palanpur, based on the findings of a succession of studies going back to 1957. "There are some other studies in which people look at every two or three years, but we've got seven [studies] now covering 60 years, one for every decade since Indian Independence. And no sampling: we cover everybody in the village."
Stern has been personally involved in the studies since 1974, and on successive visits even took his wife and children to the village. Nevertheless, he believes the academics' personal impact has been minimal. "We haven't tried to change anything," he said. "It's not a laboratory in the sense that you flip something or introduce something and see what happens. We tried very hard not to have an effect, and I think we've succeeded. You never know for sure, but the key is to convince the people that you're mad, but harmless.
"There's a lesson here," he said. "If you want to do longitudinal work, start young, live long and find young people to carry on. That's how we got there, and it enables us to ask what is the most fundamental question of development economics, which is how lives change? What are the forces driving change in income? Why do some people do better than others? If development economics is about anything, it must be about those issues.
There have obviously been many changes in the village down the decades, ranging from the introduction of electricity and mobile communications to a significant improvement in educational opportunities for women, albeit during just the last 10 years. But what does he think can be extrapolated about India as a whole from this single village?
"India is about 30 years behind China in the process of growth, and acceleration and what you're seeing is a progress very strongly going towards the services sector. Most of the things I describe, the new jobs outside the village, are services sector jobs. With the advance of China, the advance of Vietnam, Bangladesh, and other countries closely connected to the supply chains to China, it's not easy for India to really be dominate in manufacturing, but there's lots that India has in the services sector that can make a really big difference."
So far, Palanpur has been "mercifully fairly free" from communal stress. "I say 'so far' because you can never be really sure," Lord Stern said. "The fractions of the population are roughly similar to India as a whole; 15-16% Muslim. There's one successful entrepreneur who would like to build a mosque in the village, but so far the social pressures are such that he hasn't been able to do it. We have to wait to see, but Palanpur been less bad than other parts of India."
More articles