More articles Sunday 30 August 2015 10:30am
Hollywood Star Alan Cumming Speaks at the Edinburgh International Book Festival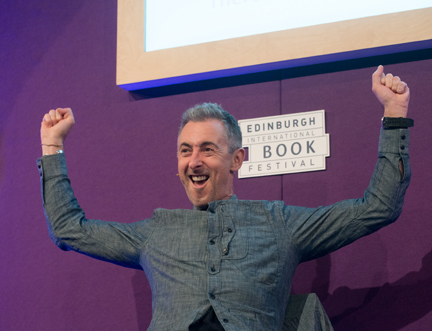 Download PDF
HOLLYWOOD star Alan Cumming has spoken of his pride of having his portrait take the place of a painting of The Queen in the Scottish National Portrait Gallery. The actor talked about the deeply personal experience of being painted by Christian Hook, the winner of Sky Arts Portrait Artist of the Year award, during his appearance at the Edinburgh International Book Festival in an event supported by the National Library of Scotland.
"It was amazing," he said, grinning. "I think, for me, it's the biggest accolade I've ever had for that to happen - they took down a picture of The Queen to put my one up. But the great thing about it was, I get my photograph taken all the time, I'm used to people portraying me in some way, but what was so amazing about Christian and the whole fact that it was television show, was that he came and we really got to know each other.
"I didn't really realise it at the time, was that he was finding out so much about me and certain things that had happened - my dog had died, and the independence thing had gone wrong, in my opinion - and we talked a lot, he painted me several times in New York, so I really loved him and I think he really loved me, and we had this really intense condensed friendship."
The painting, which went on exhibition at the Edinburgh gallery in December last year, portrays Cumming nude, wearing a kilt made from the Yes campaign's official tartan around his neck, with a top hat in front of him and, in reference to his dog, a jar of honey to one side. Cumming said: "He saw things that were really important to me, and he understood that's going to be there forever in that gallery, and so he wanted me to be involved in a way that people who take your picture or paint your picture, it's about them, they're interpretation of you and you just happen to be the subject. But I love it, I really feel it's got my spirit."
In a wide-ranging discussion, the actor also talked about his autobiography Not My Father's Son, which includes a harrowing account of Cumming's childhood scarred by abuse at the hands of his now-deceased father; the trauma of uncovering his family's past while filming with the BBC's 'Who Do You Think Are?' in 2010, and recalling his first encounter with the evening's host, author Ian Rankin.
The star said that, while he had been genuinely delighted to be part of the BBC show, as he uncovered the truth about the death of his mother's father during the 1950s while playing Russian roulette in Malaysia, his excitement turned to dismay.
"I was asked, did I regret doing it? And at times I did. When I was going into it, I thought this is the best thing about being famous that's ever happened to me, in terms of the research and the stuff that is open to you, and the fact that I was able to give my mum this gift of knowing what had happened to her father, and I just thought 'Wow, I would never have been able to find this out had I not been famous, isn't that great?' But halfway through, I thought "Oh, f***', and I was having to tell my mum, and that was the worst part."
Discussing his forthcoming book, Cumming said that it combines stories and memoirs about his life with photographs that he had taken.
Rankin and Cumming also reminisced about how they had first come to be friends after being thrown together on a 2009 BBC show called Into The Night With… which brought together two celebrities from the same geographical location who do not know each other, and then took them on a tour of the area. Both men vividly recalled being picked up in a luxury car which was stocked with alcohol and then filmed as they were taken from location to location. Rankin said: "What I really remember was going the Scottish Parliament, which of course was shut, and we get taken into the debating chamber. We sat there with the whole of Scottish Parliamentary history at our disposal, we started telling dirty jokes while the cameras were on us."
-ends-
More articles