More articles Wednesday 19 August 2015 12:30pm
Immigration and Cultural Boycotts Discussed at the Edinburgh International Book Festival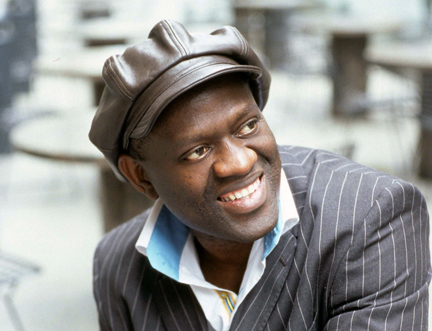 Download PDF
What it means to be an immigrant writer, bereavement and the pointlessness of cultural boycotts dominated discussions with the internationally acclaimed novelists, Israeli writer Etgar Keret and The Congo's Alain Mabanckou, at the Edinburgh International Book Festival last night.
The two authors arrived at the Festival having both recently released memoirs: Mabanckou's The Lights of Pointe-Noire, an account of his life in the Congolese city he left aged 22, and Keret's The Seven Good Years a chronicle of events between the birth of his son and death of his father.
For Mabanckou, whose novels include Broken Glass and Tomorrow I'll be Twenty, returning to his home country after 23 years away, (living in France and more recently in the US where he is a professor of French at the University of California), the response was overwhelming as he found himself facing crowds of people from all walks of society.
"It was like I was discovering again my own country," the Francophone writer said. "I thought that nobody would know me over there, but I got there [and the reaction was such] I thought 'literature is like football in the Congo'. You would go to the market and an old mama would go 'oh, you're the writer that I saw on the TV', and she would give me some fruit. We went to the schools to do some readings for the pupils, and they were coming to hear them morning and evening, they wanted literature more than anything in the city."
Articulating the impact of leaving his African home, he said that he "felt this lack of country", and so began to "gather all this stuff [nostalgia and memories] which can help me build another Congo." Mabanckou said that his next novel Petit Piment (Little Pepper) would come from his childhood again, this time focusing on the prostitutes who lived in Pointe-Noire's the three hundred district - the name derived from the price it cost to hire a prostitute, 300 francs. He said the novel, which is published in France later this week with an English translation in 2017, was "his tribute" to the women he had encountered there as a child.
For Keret, whose work includes the short story collections A Moonless Night and Suddenly, a Knock on the Door, being the son of Polish Holocaust survivors who had immigrated to Israel brought with it a heightened sense of the impact of his actions and words and that writing offered liberation from this constriction.
"I was always aware as a kid that the things that I said affected my parents' mood, and I wanted them to be happy, so I'd always give the right answer. My mother would say, 'do you want another portion of food or dessert?' and I would say 'I want another portion of food', and even to this day I don't take dessert, because by instinct I try to do the things that are correct.
"So when I write fiction, I feel liberated to be myself, I can do all those things, the weird stuff that I usually can't even articulate, and if the story is far enough from real life, then people can recognise the emotion but they can't contextualise."
Despite having lived all his life in Israel, Keret said he still had a deep connection with Warsaw, the home of his parents. There was a narrow house barely wide-enough to accommodate a single bed that had been built for him, unasked, by a local architect. The street happened to be the same one where his mother as a child had smuggled food past German soldiers at a checkpoint in to the Warsaw ghetto. Keret said that he felt there was still "something of the immigrant in him" and carried a sense of the dual identity his Polish-Jewish parents had, which gave him the ability to be both an insider and outsider in his own culture and write critically about it.
Asked about their opinions on cultural boycotts of Israel, Keret repeated his previously-expressed belief that they were "an easy solution" "I think when it comes to culture, culture is a safe haven for empathy," he added. "My favourite films are Iranian films. I don't like many things in the Iranian regimes, but those films help humanise Iran. When it comes to culture, if you try to block it, even if you don't mean to, it's some sort of attempt to dehumanise or alienate, which isn't what art is about."
Mabanckou said that he had faced protests when he had announced that he would travel to Israel 2007 to collect awards for his novels, with people threatening to burn his books in the shops if he did. "I went anyway. I had the attitude of: look, if I had something say against Israel and the situation over there it's better that I go and say it there," he said. "I don't think that if I boycott my own book there it will resolve the problem. They were fighting before I was born, they're still fighting and it may be when I'm dead, they'll be fighting."
More articles