More articles Thursday 06 October 2016 10:00am
Jeffrey Archer to speak in Edinburgh in exclusive Book Festival event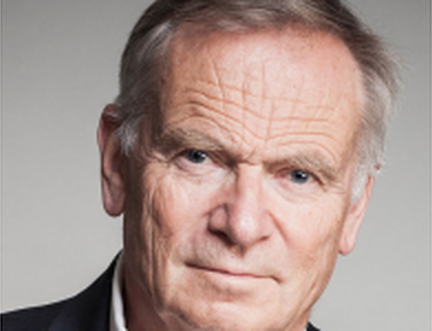 Download PDF
In an exclusive Scottish event for the Edinburgh International Book Festival's Booked! programme the publishing sensation Jeffrey Archer launches This Was a Man in Edinburgh this November.
The publication of this, the seventh and final instalment in his epic number-one bestselling Clifton Chronicles, will bring to a thrilling conclusion the spellbinding series which has captivated readers since 2011. Archer will be in conversation about the new release, the series, and his life and career with journalist Ruth Wishart at the Usher Hall at 7.00pm on Wednesday 9 November. Tickets priced £12 and £10 for concessions are on sale from 10am on Thursday 6 October from the Usher Hall. The event will last for 75 minutes, including an audience question and answer session, and will be followed by a book signing. Booked! is supported by players of People's Postcode Lottery.
Nick Barley, Director of the Edinburgh International Book Festival, said "Jeffrey Archer spoke at the very first Edinburgh International Book Festival, back in 1983 and it seemed appropriate to invite him back to Edinburgh to close his latest epic series as we approach the 70th anniversary of Edinburgh as a world leading Festival city. The Clifton Chronicles series is a publishing phenomenon, with total English language worldwide sales so far of 7.1 million, and this event provides an ideal opportunity to look back at the series as a whole, as well as exploring Jeffrey's unique career in more depth."
Jeffrey Archer, whose novels and short stories include Kane and Abel, A Prisoner of Birth and Cat O' Nine Tales, has topped the bestseller lists around the world, with sales of over 275 million copies. He is the only author ever to have been a number one bestseller in fiction, short stories and non-fiction (The Prison Diaries). Archer set out at the age of 70 to write The Clifton Chronicles and it has turned out to be his boldest undertaking yet, bringing to life the key historical and political events of the 20th century over the course of one family's story, with their triumphs and their tragedies. It's a thrilling episodic saga of love, loss, betrayal and ambition, taking the reader on an exhilarating journey from the back alleys of Bristol to the teeming streets of New York City and the gulags of Stalinist Russia, and has been published in 28 languages worldwide.
Tickets are available from the Usher Hall from 10am on Thursday 6 October priced £12 (£10 concessions) and seating is allocated. The Usher Hall Box office is open 10.00am to 5.30pm Monday to Saturday, Tel 0131 228 1155 or https://tickets.usherhall.co.uk. Copies of This Was a Man will be available to purchase at the event.
With the support of City of Edinburgh Libraries, the Book Festival is inviting members of local reading and community groups who have never previously attended an Edinburgh International Book Festival event to come and hear Jeffrey speak, encouraging more people to develop a love of books and reading by bringing them together with an international bestseller for the first time.
This event is part of the Edinburgh International Book Festival's Booked! programme, supported by players of People's Postcode Lottery. Booked! is the Edinburgh International Book Festival on the road around Scotland, throughout the year. A celebration of words and ideas, Booked! blends the very best from groups and organisations across the country with the energy and excitement of the August Book Festival. Produced in collaboration with a variety of partners, this wide-ranging programme of events and activities brings authors, artists and audiences together to inspire each other and to be inspired, to share stories and experiences, and bring books to life for people of all ages in their own communities.
Clara Govier, Head of Charities, People's Postcode Lottery, said "Booked! allows the Edinburgh International Book Festival to reach communities from across Scotland and we are delighted that as a result of funding from players of People's Postcode Lottery, you don't just have to visit Charlotte Square Gardens to enjoy what the Book Festival has to offer."
More articles