More articles Tuesday 25 August 2015 3:30pm
Julian Barnes on Art at the Edinburgh International Book Festival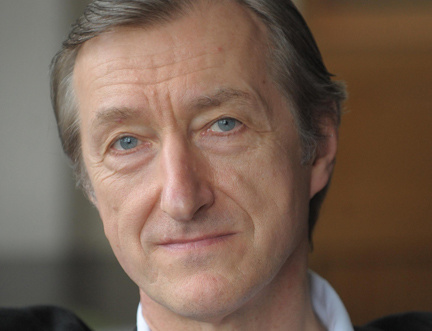 Download PDF
CONTEMPORARY artists are limiting their creativity by forcing themselves to adopt a philosophy at the start of their careers, author Julian Barnes has said. Speaking at the Edinburgh International Book Festival in an event supported by the Hawthornden Literary Retreat, Barnes, whose latest work, Keeping An Eye Open, is a collection of essays on art, said some current artists would benefit having "their tongues cut out".
"Matisse said that artists should have their tongues cut out, which is very good advice for some living artists I would say," the Booker-winning writer explained. "Because it is increasingly the case over the last 100 years or so that artists, from a very young age, have to have a narrative about what they're actually doing. You feel that the narrative is almost floating free from the art, and that it's part of the publicity that they have to do or they feel that instead of gradually discovering what it is they are doing and what it means to them, they seem to have to have a thesis to begin with."
During a wide-ranging discussion with the art historian, Tim Marlow, the author touched on his introduction to art as a teenager, his love of British abstract painter Howard Hodgkin, and his dislike of work of Jeff Koons and Andy Warhol.
Explaining his admiration for Hodgkin's work, Barnes described him as "a tremendous tease". "He gives you titles that makes you think you're going identify a narrative in the picture" he said. "In Bed In Venice for example, and then you think where's Venice? It's the bed. It's that sort of thing because he gives titles to what are pictures of emotional states and therefore not narrative.
"He attracts writers, novelists love his work, there's a whole book called Writers On Howard Hodgkin, and so we narrativists are drawn to this painter who is teasing us with narrative and then refusing it, so we bash our heads against this wall of meaning, enjoyably so."
Citing examples of artists work he disliked, Barnes said of contemporary American artist Jeff Koons, best known for his brightly-coloured oversized reproductions of balloon animals and other kitsch items, that he was "trading commodities." Barnes said: "I don't think it's profound what he does, I think it's very, very simple what he does, and I think it's aimed at a particular type of client very successfully. He was a commodities trader and what is he doing? He's trading commodities. It's absolutely brilliant. And like corn or oil, Jeff Koons [pieces] are bound to go up in value."
He also described pop artist Andy Warhol as being an artist in the sense that "Fergie was a Royal". "He's not an interesting artist for me," he explained. "One of the tests of art is when you go back and you see it again after 10 years, and you have changed, inevitably, has the work changed or do you have exactly the same reaction to it? And that's how I feel about Warhol. He's a very skilled technician, he was brilliant at the images that he chose, and he was exactly an artist of his time, and yet you look at his work and you say 'that's a blue Marilyn, there's a red Marilyn, there's an Elvis'. You go around and you recognise them again and you have either exactly the same reaction again, or perhaps a lesser one."
The writer will be curating one of the first-ever British exhibitions of the Swiss 19th Century artist Felix Vallotton in London's Royal Academy later this year.
-ends-
More articles