More articles Monday 19 January 2015 10:00am
Kazuo Ishiguro makes rare Scottish appearance in spring event at Edinburgh International Book Festival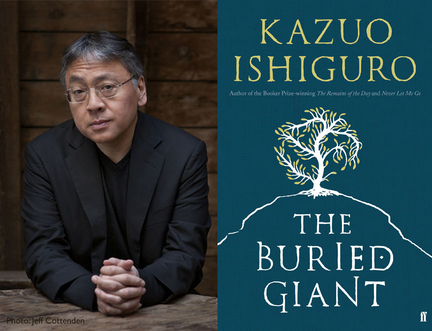 Download PDF
Organisers of the Edinburgh International Book Festival today announced a very special spring event with one of the world's leading novelists – Kazuo Ishiguro – who will be making a rare Scottish appearance to discuss his brand new novel, The Buried Giant, on Thursday 5 March. The event at the Lyceum Theatre in Edinburgh is presented in association with the publisher Faber & Faber, and supported by players of People's Postcode Lottery.
There are few writers whose work explores the human condition with such grace and singularity. Ishiguro's writing always seems to shock in its boldness and yet also feels familiar, tackles new ground but explores common themes. The Buried Giant is another stunningly original piece of work - a novel that is as urgent and relevant as it is mysterious. Deceptively simple, it lingers in the mind long after reading, the painfully personal story of a married couple who embark on a journey to find not only their son, but their own memories that have become inexplicably clouded.
Nick Barley, Director of the Edinburgh International Book Festival, said 'We are thrilled and proud to welcome Kazuo Ishiguro back to the city to talk about his first novel in a decade. This new book is something to be celebrated: Ishiguro has produced a gripping tale which is also profoundly moving – a novel set in another era that feels highly relevant to the world we live in today. It is an honour to welcome this master of the storytelling art back to Edinburgh.'
The award-winning author was born in Nagasaki, Japan, on 8 November 1954. He came to Britain in 1960 when his father began research at the National Institute of Oceanography, and was educated at a grammar school for boys in Surrey. He won the Booker Prize with his third novel, The Remains of the Day, and was awarded the OBE in 1995 for services to literature and is a Fellow of the Royal Society of Literature.
Kazuo Ishiguro's seven previous books have won him international recognition and many honours around the world. His work has been translated into over forty languages. The Remains of the Day and Never Let Me Go have each sold in excess of 1,000,000 copies in Faber editions alone, and both were adapted into highly acclaimed films.
Ishiguro's appearance is part of a wide-ranging programme of exciting literature events and activities from the Edinburgh International Book Festival. The series, which will be taking place across the country, focuses on instilling a love of books and an enjoyment of reading for all levels of ability, all ages and all communities, and is funded by generous support from players of People's Postcode Lottery.
Kazuo Ishiguro will be speaking at the Lyceum Theatre, Edinburgh on Thursday 5 March at 5.15pm. Tickets, priced at £12 (£10 concession), are available from the Lyceum Box Office on https://bookings.lyceum.org.uk or 0131 248 4848 which is open Monday to Saturday 10.00am to 5.00pm.
The Edinburgh International Book Festival is the largest public celebration of books in the world, with 800 authors from over 40 different countries appearing in around 750 events every August. The 2015 Festival will run from 15 to 31 August and full programme details will be announced in June 2015.
-ends-
For further information, please contact:
Frances Sutton, Press Manager, Edinburgh International Book Festival
07841 579481 or frances@edbookfest.co.uk
---
NOTES TO EDITORS
About People's Postcode Lottery
People's Postcode Lottery is a charity lottery. Players play with their postcodes to win cash prizes while raising money for charities and good causes local to them.
People's Postcode Lottery is an External Lottery Manager and manages multiple society lotteries promoted by different causes supporting a range of good causes. For details on which society lottery is running each week, visit www.postcodelottery.co.uk/society
Postcode Lottery Limited is regulated by the Gambling Commission under certificate nr 829-N-102511-009 and 829-R-102513-008. Registered office: Titchfield House, 69/85 Tabernacle Street, London, EC2A 4RR
People's Postcode Lottery players support the following Trusts – Postcode Green Trust, Postcode Care Trust, Postcode Culture Trust, Postcode Animal Trust, Postcode Heroes Trust, Postcode Global Trust, Postcode African Trust, Postcode Children Trust, Postcode Community Trust and People's Postcode Trust. These Trusts are funded entirely by players and support a variety of good causes. For further information on each charity, visit: www.postcodelottery.co.uk/charities
50p from every £2 ticket goes to good causes and players have raised over £58.6 million for good causes across the country
There are five draws a month with prizes every day and each ticket costs £2 – paid monthly in advance by direct debit. For further prize information, visit: www.postcodelottery.co.uk/prizes
Maximum amount a single ticket can win is 10% of the draw revenue to a maximum of £400,000
Players can sign up by Direct Debit, credit card or PayPal online at www.postcodelottery.co.uk, or by calling 0808 10-9-8-7-6-5.
More articles