More articles Thursday 10 March 2016 10:00am
LandWords, A Brand New Festival For Falkirk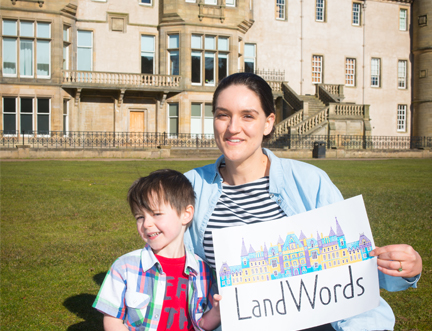 Download PDF
The Edinburgh International Book Festival, in partnership with Falkirk Community Trust, today launched LandWords, a brand new Festival of words and stories based at Falkirk's Callendar House held over two weekends in April and May. LandWords offers audiences of all ages the opportunity to explore Callendar House, parts of which date from the 14th century, its place in the landscape and the local community and the stories that surround it, with some of the best writers and illustrators for adults and children.
On Saturday 16 and Sunday 17 April in a series of indoor and outdoor events inspired by the anniversary of the birth of John Muir, Geoff Bailey, Keeper of Archaeology and Local History at Falkirk Community Trust, explores the story of the Country Estates of Falkirk: the magnificently designed landscapes and architectural gems at Callendar Park, Kinneil Park and Muiravonside, and storytelling duo Fergus McNicol and Ron Fairweather – also known as Macastory – share stories of Falkirk's people and places in a bespoke tour of the house and grounds. Journalist Jan Patience hosts a discussion with Louise Wyllie, the daughter of one of Scotland's most influential, recognisable and endearing cross-disciplinary artists, George Wyllie, which coincides with an exhibition of his work at the Park Gallery in Callender House. Illustrator Eilidh Muldoon assists children through print making and book making workshops and award-winning author Linda Cracknell leads a nature walk and workshop through the grounds.
A host of specially invited guests join renowned author, Alan Bissett, as he returns to his home town on Saturday 17 April to read from Alight Here, an anthology of Falkirk writing which Bissett recently edited, and to give a performance of his light-hearted play about life in the town, What The F**kirk, with live music from Falkirk-born Adam Stafford. Both pieces of work were originally created by Alan Bissett and Falkirk Community Trust as part of Falkirk's Creative Place 2014 award from Creative Scotland.
Visitors to Callendar House will also be invited to take part in a variety of free, drop-in creative activities throughout the weekend, designed to encourage people to share their own personal stories and responses to the Falkirk area. These activities – led by LandWords resident author Kerry Hudson and performance artist Donna Rutherford – build on the creative work of the wider LandWords project, in which Rutherford and Hudson have been working with pupils of Graeme High School and members of Step Forth Walking Group to produce creative responses to Callendar House, its surroundings, and the participants' relationship with land and life in Falkirk. This work will be also be showcased and celebrated at the final LandWords weekend in May.
On Saturday 14 and Sunday 15 May, LandWords welcomes more internationally renowned writers and artists including Kelpies sculptor Andy Scott, bestselling Scottish writer Sara Sheridan and award-winning Scottish novelist and poet James Robertson discusses his work, and in particular his second novel Joseph Knight, a moving narrative of imperial history, identity and ideas. Audiences can join in with a series of site-specific reading workshops, make their own books with book artist and photographer Rachel Hazell or celebrate the launch of an anthology produced through the creative connection of Falkirk's young and old in the LandWords intergenerational project! The LandWords May weekend is part of Festival of Museums 2016, the annual programme of Scotland-wide events co-ordinated by Museums Galleries Scotland.
Janet Smyth, Children and Education Programme Director at the Edinburgh International Book Festival said "We're excited to present the LandWords Festival in partnership with Falkirk Community Trust as part of our Booked! programme. Both our LandWords weekends bring together authors, artists and storytellers to explore our sense of identity and how it relates to history and place. It is all inspired and hosted by Callendar House and its grounds. We want to know how we tell our own stories of the places that shape us and how those stories fit with recorded history. We want to know the stories of the audiences from Falkirk and beyond and discover our shared connections to Scotland's stories, old and new, in our post-industrial, post-referendum, modern age."
Ian Scott, Chairman of Falkirk Community Trust, said "We are delighted to be working in partnership with the Edinburgh Book Festival on this fascinating event. Combining culture and heritage from across the Falkirk area, this is a new approach to celebrating the Festival of Museums which we hope will bring new visitors from the area and beyond".
Full details of all events in the programme can be found from tomorrow, Friday 11 March, at www.falkirkcommunitytrust.org or www.edbookfest.co.uk. Tickets for LandWords events, priced at £5 for adults and £3.50 for children, concessions etc, go on sale on Friday 11 March. Please note some events are free and drop-in. Tickets can be purchased through the Falkirk Community Trust's Booking line on 01324 506850 Monday to Friday 9.00am – 6.00pm, Saturday's from 9.45am – 3.00pm. In person at Falkirk Stadium, Monday – Friday 9.00am – 5.00pm or Saturdays (until 26th March) at Steeple Box Office, High Street, Falkirk, Saturdays (from 2nd April) at Falkirk Town Hall. Tickets may be purchased on the day of the event subject to availability.
A programme of events specifically designed for local schools and community groups takes place on Friday 13 May, offering the chance to engage with writers and artists, explore land, location and identity, and have fun with words in a unique museum setting.
LandWords is produced by Edinburgh International Book Festival in collaboration with Falkirk Community Trust, as part of the Booked! Programme, supported by players of People's Postcode Lottery. Booked! is the Edinburgh International Book Festival on the road around Scotland, throughout the year. A celebration of words and ideas, Booked! blends the very best from groups and organisations across the country with the energy and excitement of the August Book Festival. Produced in collaboration with a variety of partners, this wide-ranging programme of events and activities brings authors, artists and audiences together to inspire each other and to be inspired, to share stories and experiences, and bring books to life for people of all ages in their own communities
Clara Govier, Head of Charities, People's Postcode Lottery, said "I'm delighted that players of People's Postcode Lottery are supporting Booked! It is fantastic that through this support the Edinburgh International Book Festival is being taken on the road throughout Scotland allowing more people than ever to experience everything that the Festival has to offer."
Notes to editors:
About Festival of Museums
Created and co-ordinated by Museums Galleries Scotland (MGS), Festival of Museums encourages Scotland's museums to stage entertaining and surprising day or night events at museums and galleries over one weekend.
This year's Festival will take place from Friday, 13 May to Sunday, 15 May. To see the event listings visit www.festivalofmuseums.com.
Museums Galleries Scotland is the National Development Body for Scotland's museums and galleries.
About People's Postcode Lottery
People's Postcode Lottery is a charity lottery. Players play with their postcodes to win cash prizes while raising money for charities and good causes across Great Britain and globally
People's Postcode Lottery is an External Lottery Manager and manages multiple society lotteries promoted by different causes supporting a range of good causes. For details on which society lottery is running each week, visit www.postcodelottery.co.uk/society
Postcode Lottery Limited is regulated by the Gambling Commission under certificate nr 000-000829-N-102511-010 and 000-000829-R-102513-009. Registered office: Titchfield House, 69/85 Tabernacle Street, London, EC2A 4RR
People's Postcode Lottery players support the following Trusts – Postcode African Trust, Postcode Animal Trust, Postcode Care Trust, Postcode Children Trust, Postcode Community Trust, Postcode Culture Trust, Postcode Dream Trust, Postcode Earth Trust, Postcode Global Trust, Postcode Green Trust, Postcode Heroes Trust, Postcode Local Trust, Postcode Planet Trust, Postcode Support Trust, People's Postcode Trust and Postcode Sport Trust. These Trusts are funded entirely by players and support a variety of good causes. For further information on each charity, visit: www.postcodelottery.co.uk/charities
A minimum of 27.5% will be awarded to charities and players have raised £104.2Million for good causes across the country
There are five draws a month with prizes every day and each ticket costs £2 – paid monthly in advance by direct debit. For further prize information, visit: www.postcodelottery.co.uk/prizes
Maximum amount a single ticket can win is 10% of the draw revenue to a maximum of £400,000 * Players can sign up by Direct Debit, credit card or PayPal online at www.postcodelottery.co.uk, or by calling 0808 10-9-8-7-6-5.
More articles