More articles Wednesday 26 August 2020 2:45pm
Language, Movement and the Oppression of Occupation discussed at The Edinburgh International Book Festival Online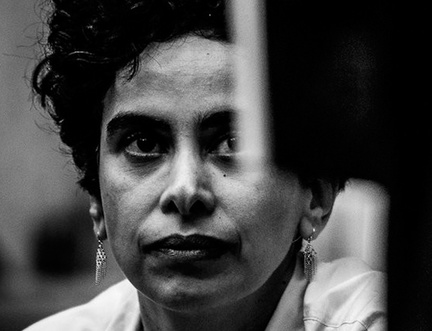 Download PDF
In an online conversation as part of the 2020 Edinburgh International Book Festival this afternoon the Palestinian writer Adania Shibli discussed language, movement and the oppression of occupation with Fatima Bhutto as they talked about Shibli's new novel Minor Detail (translated from the Arabic by Elisabeth Jaquette).
Shibli's novel takes place within two timeframes – in 1949 it follows an Israeli military platoon who capture a Bedouin girl in the Negev, and then the story moves to a contemporary setting of Ramallah. Shibli, who worked on the novel for 12 years before submitting it to a publisher, discussed how the novel looks at a normalcy where violence can be a daily life experience. She related how, when she was researching the novel and visiting the museum, she had been arrested, investigated by the Israeli intelligence and accused of spying for Iran – because they had never seen a Palestinian woman with a computer visit the museum before. The picture didn't fit with their narrative.
Bhutto commented that the novel was rich with detail of life under occupation and asked why Shibli hadn't named her characters.
"Naming characters is an act of power, I don't want to practice" she said. "Language is a living body, it exists, it has agency, without names they become something alien. Names are an indictment. There is racism based on how you look and then there is racism based on your name. Disclosing your name can play into the dynamics of oppression. I couldn't find how to address the names of the characters."
"Arabic is so playful but when we speak in front of the Israeli military or settlers, it becomes the trampling language. Treated as a threat, as something inferior. Migrants to the west – look how their languages are being buried. They are excluded from society because they speak their own language. Always language becomes a threat, and this is very violent treatment of something that is so intimate."
Bhutto moved on to talk about movement – how in the first story the Israeli commander moves or glides through life with no obstructions, yet in the second story the women in Ramallah is denied movement at every turn. She wondered whether readers in lockdown might relate to this. Shibli laughingly said "I already have immunity to lockdown, I have the antibodies." And more seriously on addressing moving around Ramallah and the intimidation of checkpoints, "You don't move, where are you going to go, what are you going to experience? Movement becomes a weapon – you become your own oppressor because you are afraid."
The Edinburgh International Book Festival continues until Monday 31 August and all events across the festival can be viewed free of charge on edbookfest.co.uk.
More articles