More articles Monday 21 August 2017 6:57pm
Laura Albert 'on the couch' with psychotherapist Susie Orbach at the Edinburgh International Book Festival.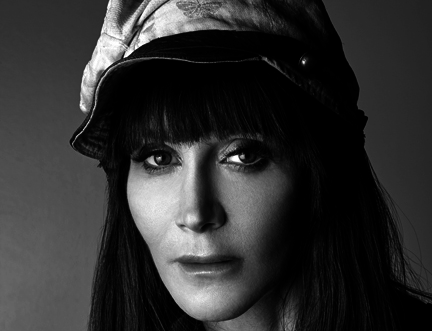 Download PDF
Writer Laura Albert says she misses her alter ego JT LeRoy and would "give it all" to be back talking to her therapist in the guise of her famous literary creation rather than as herself.
In the late 1990s, Jeremiah 'Terminator' LeRoy's apparently autobiographical tales of abuse as a young man in West Virginia became cult hits and attracted a celebrity following, but media exposés in 2005/06 revealed that the real author was actually New Yorker Laura Albert, who had accompanied her fictional 'avatar' everywhere as 'Speedie'.
"I definitely miss JT", she told therapist Susie Orbach at the Edinburgh International Book Festival, "JT had a therapist, Dr Owens, and I spoke to him on the phone for about 15 years or more…and then he found out it was me, then he continued to see me, but I will tell you that it never felt as good as it was to be there present with him – I would give it all to be back talking to him as JT, as Jeremy."
Albert also said she wished she "still had Speedie" because she "could get shit done". "There are times when I need that advocate for me," she said, "and [now] I have to depend on other people for that. So, if something needed to be handled, she [Speedie] was an advocate [for JT] and she set boundaries and…that actually helped me be an advocate for myself."
In an experiment in public therapy, Laura Albert had placed herself 'on the couch' with writer and psychotherapist Susie Orbach at the Edinburgh International Book Festival, a "session" which mainly focused on food. "My alter ego [JT LeRoy] was always on the anorexic side, so he was an under-eater," Albert told Orbach, "but as we went along he started gaining weight. What was interesting is that Savannah [Knoop], who embodied JT, started gaining weight while I was losing weight."
While people thought Albert had created her literary character in order to "meet celebrities", actually she was more interested in food. "I remember we were flying to London and we were going to meet Madonna," she recalled. "I wasn't thinking 'oh I'm going to meet Madonna', I was thinking about what I was going to get to eat after."
And commenting on a forthcoming biopic about the JT LeRoy story starring actress Laura Dern, Albert said: "Laura Dern is very thin. They're not even doing the eating disorder stuff, and to me that's like Superman without Kryptonite, it's just so bizarre because for me everything stems from that."
More articles