More articles Friday 22 August 2014 3:30pm
LETTERS HOME WINS FRINGE FIRST AWARD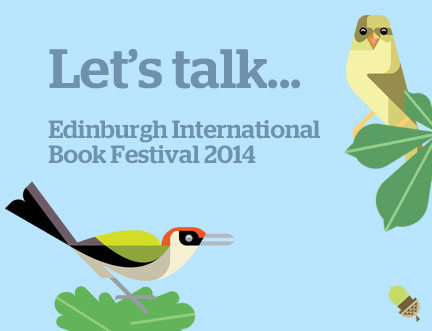 Download PDF
The Edinburgh International Book Festival's exciting new collaboration with multi award-winning Scottish theatre company Grid Iron has won a coveted Fringe First Award from The Scotsman. The Book Festival commissioned four internationally acclaimed writers to produce brand new pieces of short fiction, inviting them reflect on the themes of identity and home in the form of letters between different characters. These letters were adapted into a promenade theatre production directed by four of Scotland's leading theatre artists alongside Creative Co-ordinator Zinnie Harris.
Letters Home, which is supported by the Scottish Government's Edinburgh Festivals Expo Fund, continues until Monday 25 August 2014 and all performances across the run have sold out.

Letters Home were penned by four leading writers who originate from Commonwealth countries but who have spent much of their careers living and working away from home; each has a different perspective on what 'home' might mean. Chimamanda Ngozi Adichie from Nigeria is the bestselling author of Orange Prize-winning Half of a Yellow Sun; Kei Miller is the acclaimed Glasgow-based Jamaican poet whose PhD thesis was on Caribbean epistolary fiction; Kamila Shamsie, the brilliant Pakistani-British author, was included in Granta's Best of Young British Novelists in 2013; and Christos Tsiolkas, the Australian author whose family emigrated from Greece, drew on his cultural experiences in his bestselling novel The Slap. Their pieces build into a stunningly moving evocation of dialogue as it has shaped relationships all over the world, and throughout the history of humankind.

Directing the pieces are Ben Harrison, Joe Douglas, Michael John McCarthy and Alice Nelson who, with Creative Co-ordinator Zinnie Harris, designer Becky Minto, lighting designer Colin Grenfell and composer Philip Pinsky, create a verbal, visual and musical journey in and around Charlotte Square Gardens.

Nick Barley, Director of the Edinburgh International Book Festival, said 'As the world's leading literary festival, Edinburgh always strives to present events in innovative and imaginative forms. This is an ambitious project and we are thrilled that it has been recognised with this prestigious award.'

Judith Doherty, Co-Artistic Director of Grid Iron, said 'We are really delighted to have received a Fringe First. Letters Home was a labour of love for everyone at Grid Iron as new writing is at the heart of what we do and to have had the opportunity to work with, and meet, such distinguished writers has been a real honour. We are also delighted that our collaboration with the Edinburgh International Book Festival has been so well received by our audiences.

Grid Iron is a multi-award winning theatre company committed to producing exciting new work in a variety of spaces and locations. During the 18 years they have been producing they have amassed 27 awards and a further 19 nominations covering all aspects of their work from acting, writing and use of music to design, stage management and technical excellence. (www.gridiron.org.uk).

More articles