More articles Thursday 11 January 2018 10:30am
New Passages to India: Edinburgh International Book Festival Celebrates Cultural Exchange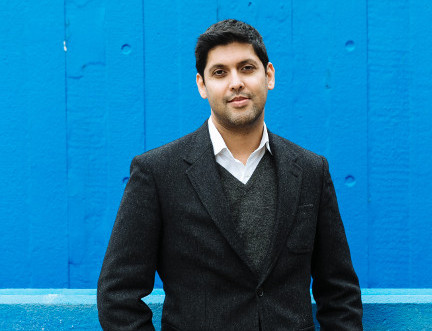 Download PDF
In 2017 the Edinburgh International Book Festival developed New Passages, a special, year-long project commemorating both the 70th anniversary of Indian independence and partition, in partnership with Purvai, Stornoway's An Lanntair festival of South Asian arts and culture, and the 70th anniversary of Edinburgh as a Festival City. As part of this project, and in collaboration with the Apeejay Kolkata Literary Festival, the Book Festival is supporting a creative exchange between authors from Scotland and India. This partnership is supported by the British Council and, as part of the Book Festival's Booked! programme of events, by players of People's Postcode Lottery.
Following an initial writing residency on the Isle of Lewis in August 2017, the second stage of the exchange will take place in January 2018 when novelist Abir Mukherjee and poet Nalini Paul travel to Kolkata to work with two India-based authors, poet Sampurna Chattarji and novelist and journalist Sandip Roy. The authors will be encouraged to creatively respond to items from the Mackenzie Collection, a rich and renowned collection of Asian art collected by Stornoway-born Colonel Colin Mackenzie during his time in India as its first surveyor general. As part of their residency they will visit The Asiatic Society, where much of the Mackenzie Collection is housed, together with the Victoria Memorial, the Scottish Cemetery and Colin Mackenzie's grave.
Through the filter of this ancient art collection, and the current reflections inspired by the 70th anniversary, the authors will give new voice to the ongoing relationship between Scotland and India. What can or should be built as these nations continue to define and redefine their contemporary relationships?
The authors will present their initial work and impressions at a special event on Sunday 14 January as part of the Apeejay Kolkata Literary Festival. They will return to Charlotte Square Gardens and Stornoway in August 2018 to present their finished works and to discuss their experiences of the exchange as a whole.
Abir Mukherjee said "The cultural roots between Scotland and Bengal run deep: this is at the heart of my writing. Time spent with the Mackenzie Collection on Stornoway during the first phase of the New Passages residency highlighted to me the continued and continually-charged nature of this relationship. I'm looking forward to learning more about those connections during my time in Kolkata, exploring and strengthening contemporary relationships between Scotland and India."
Sampurna Chattarji said "Scotland has long been part of my emotional and literary landscape. A 3-week-stay in Edinburgh on a Charles Wallace India Trust scholarship way back in 2005 enhanced that, and led to poems that featured in my second poetry book, Absent Muses. Being invited to be part of New Passages seems like two magic words came together, India and Scotland, enabling me to turn new keys that open secret doors into the relationship between faraway Stornoway and familiar Kolkata, between the colonial and the contemporary; a chance for me to investigate new links in "chains of circumstance and blood".
Roland Gulliver, Associate Director, Edinburgh International Book Festival, said "I am delighted that we are embarking on this next phase of the 'New Passages' exchange, in partnership with An Lanntair and Apeejay Kolkata Literature Festival. 'New Passages' is not only a reflective project marking 70 years of Indian Independence and of Edinburgh as a festival city: it is a forward-looking exchange which, through the filter of Colin Mackenzie's ancient art collection, allows contemporary authors and artists to give new voice to the ever-developing relationship between these nations.
"The Book Festival is always working to broaden access to such vital conversations. Building the work into our year-round programme of projects and events is an expression of this commitment to reaching new audiences in Scotland and beyond, whilst developing and deepening relationships with our partners, authors and artists."
Director of the British Council in Scotland, Jackie Killeen said, "Throughout 2017 the British Council's UK/India year of culture has celebrated the rich cultural and historic connections that are shared between both countries. We are pleased to be supporting 'New Passages', a timely project to enable new connections to form between contemporary writers from Scotland and India. We look forward to seeing how their partnerships take root and blossom in the year ahead."
Clara Govier, Head of Charities, People's Postcode Lottery, said "I'm delighted that players of People's Postcode Lottery are supporting New Passages through the Booked! programme. It is fantastic that through this support the Edinburgh International Book Festival is taking authors not only around Scotland but in this case all the way to India."
Booked!, the Edinburgh International Book Festival on the road around Scotland throughout the year, is supported by players of People's Postcode Lottery.
More articles