More articles Friday 24 August 2018 2:25pm
Picasso' family has an obligation to protect and promote the artist's work.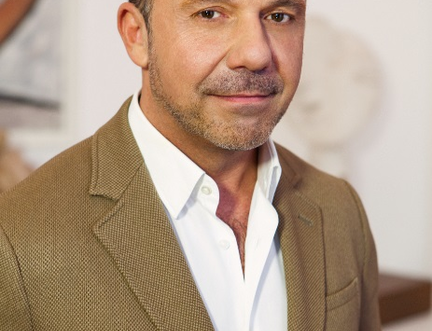 Download PDF
The family of Pablo Picasso feels it has an obligation to protect and promote his artwork, according to Olivier Widmaier Picasso. The lawyer and TV producer, one of the artist's eight grandchildren, was speaking with the arts writer Jan Patience about his new book, Picasso: An Intimate Portrait at a sold-out event at the Edinburgh International Book Festival.
"It is a small family – four children, eight grandchildren – that has a mission, he said. "As the family of such an artist we have benefits – the name, the fortune – but also an obligation to protect and promote his artwork."
Widmaier Picasso's new book is a moving, but honest account of his celebrated grandfather, told through intimate family stories and images. "It was interesting to me not only to know about 'my' period of his life, which is of Pablo and [his mistress] Marie-Thérèse [Walter], and [their daughter] my mother Maya, but also to understand before and after, because very quickly after he died, there were rumours, there were legends, there were facts, and I needed to understand and set the record straight."
Widmaier Picasso was sharing the stage with James Attlee, author of a new book on arguably his grandfather's most famous work, depicting the fascist bombing of the Basque town of Guernica. Discussing Guernica: Painting the End of the World, Attlee said that one of the mural's triumphs was how Picasso showed it was possible to "make a political work, or a contemporary work, that was still figurative but was also avant-garde".
The mural was originally a commission by Spain's then-Republican government. Picasso "hated commissions," Attlee explained: "He said that 'art is like a thousand suns inside one, and everything else is nothing'. He didn't want anyone to tell him what to paint, but he wanted to help the Republican Government."
Created in just five weeks, the painting would end up travelling the world for decades, including brief exhibitions in London and Manchester, in the process becoming a potent symbol of the horrors of war. Picasso, who died in 1973, insisted that the painting should never be returned to Spain until civil liberties were restored, a decision ultimately made in 1981 by Picasso's "formidable" Parisian lawyer, Roland Dumas.
"It was shown behind bullet-proof glass," Attlee pointed out, and not without a certain irony: the painting was guarded by the Guardia Civil, the same force which had attempted a coup d'état earlier in the year. "The Guardia had entered the Parliament, firing shots, and only the King had ordered them back to barracks."
For many, the painting is now associated with the country's transition to democracy, but it remains controversial for some. "There is no other painting that has been so politically charged," Attlee insisted. "When it was outside Spain it was a thorn in the side of Franco. And even today, the Basque country feels it's very unjust that the painting is in Madrid.
"The Guggenheim Museum Bilbao was designed by Frank Gehry with a space to accommodate Guernica," he added.
More articles