More articles Thursday 18 August 2011 1:45pm
Prestigious Poetry Competition Winners Announced At Edinburgh International Book Festival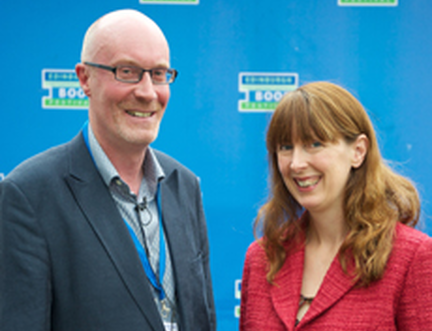 Download PDF
The prizewinners in the fourth Edwin Morgan International Poetry Competition were announced at a ceremony at the Edinburgh International Book Festival last night.
The first prize of £5,000 has been awarded to Jane McKie for her poem Leper Window, St Mary the Virgin, which was judged to be the best of an initial field of 1,200 entries from around the world.
The ceremony was held just before the first anniversary of the death, at the age of 90, of Professor Edwin Morgan, who held the post of Scotland's first Makar, or national poet.
The competition, sponsored by the University of Strathclyde and hosted by the Book Festival, offers one of the biggest poetry prizes in the UK, with awards totalling £6,600. The winning poems were chosen by this year's judges, poets Vicki Feaver and Kona Macphee.
Kona Macphee said of the winning poem: "Leper Window epitomises everything I love about poetry. It revels in the musicality of language and is magnificently concise, evoking a whole lost world in a dozen elegantly understated lines."
Vicki Feaver said: "I think it was Coleridge who defined poetry as 'the best words in the best order.' This moving and beautifully constructed poem follows that definition perfectly."
Dr David Kinloch, a Reader in Strathclyde's Faculty of Humanities & Social Sciences and co-founder of the competition, chaired the event. He said: "It has again been a pleasure to have received so many entries of such high quality.
"It has been particularly gratifying as we prepare to mark the first anniversary of Edwin Morgan's death. As one of the outstanding poets of the modern age, he left a formidable poetic legacy and this resonates in the entries to this year's competition."
Jane McKie previously won the Sundial/Scottish Arts Council Best First Book award for her debut collection, Morocco Rococo, published in 2007. She also founded Knucker Press, a small press which specialises in prose and poetry publications combining word and image.
Other winners in the competition were:
second prize (£1,000) Ossuary, by Lydia MacPherson
third prize (£500)- Four Sisters: Sargent's 'The Daughters of Edward D. Boit,' by Jane Yeh
runners-up (£50)- Loving Medusa, by Gillian Andrews; Remains, by Sarah Jackson
commended poems- Gist by Paula Cunningham; Other People's Dreams by Helen Mort; Snow Angel by Aileen Ballantyne; Ten O'Clock Horses by Sarah Jackson; Troup Head by Ian Crockatt.
Strathclyde's Humanities and Social Sciences make up the largest Faculty in the University. The Faculty is delivering high quality education and internationally recognised research across a spectrum of disciplines including Law, Government and Public Policy, English, History, Languages, Social Work, Teacher Education and Psychological Sciences & Health. It is set to benefit from eight new posts in the coming months through a major new investment in areas of strength, in addition to a £25 million package to create a new hub for the Faculty on the University's city-centre campus. More at: www.strath.ac.uk/humanities/
More articles