More articles Tuesday 02 July 2013 1:00pm
Revel in late night Book Festival spirit at Jura Unbound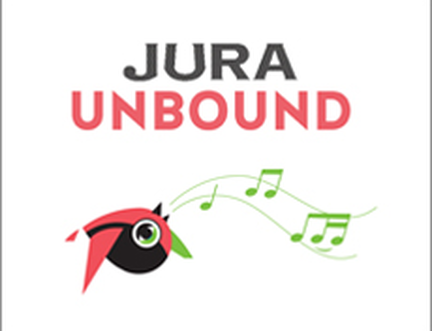 Download PDF
This summer, as the Edinburgh International Book Festival celebrates its 30th birthday, the popular late night free event strand, Jura Unbound, turns four and delivers a series of boisterous literary antics each evening from 11 to 26 August. Thanks to new major sponsor, Jura whisky, there's a free dram for everyone every night.
Roland Gulliver, Associate Director of the Edinburgh International Book Festival said; 'The essence of Jura Unbound has always been to do things a little differently, to create something a bit special each night. We like to offer authors and artists a unique space to tell their stories, and our audiences the best way to finish their festival day with music, performance and lots of literature. This year, with the support of Jura whisky, we are very excited to bringing together writers and performers from Scotland, the UK and abroad.'
Announced today, the Jura Unbound 2013 line up looks back at the last 30 years and looks forward to what the future may hold. The evenings, which are free and take place in the Guardian Spiegeltent in Charlotte Square Gardens, fuse literary and musical boundaries, celebrate the written word and are set to be one of the eclectic free festival experiences in August. There's even a comic book superhero or two swooping into the Gardens to save the day.
Alan Bissett and his alter-ego, the radical feminist and anti-porn campaigner Andrea Dworkin, raise a leg warmer to the 80s. Five Dials unwind in the 90s with a secret selection of writers and musicians while launching their latest edition live on stage. The naughties are honoured with a golden hour (or two) of contemporary Iraqi culture and music while Sian Bevan embraces the future in Robots Dream of Electric Tales with comedy storytelling.
Live music is an integral part of Jura Unbound, providing the audience with extraordinary, one-off magical experiences which will never be repeated. John Lemke's and Poppy Ackroyd's set with Writers' Bloc is not to be missed. Vic Galloway presents some of his favourite artists from Fife's Fence Collective and tells tales from his brand new book, Songs in the Key of Fife.
Kevin MacNeil and Willie Campbell showcase their album Visible from Space and the much loved Bookshop Band make their Jura Unbound debut fresh from touring Paris and Ireland. Finally, Scandinavian favourites Ljodahatt provide the finest Norwegian poetry in song - think Arcade Fire coupled with the dark cabaret of Tom Waits.
Words are not forgotten at Jura Unbound. Three of the brightest authors from the Granta class of 2013, the best young British novelists under 40, reveal their tales. Gutter, the country's leading magazine of new writing, hosts a night of queerness to mark Out There, a new state of the nation book of LGBT writing planned for 2014. Author Dan Rhodes defies expectation, subverts conventions and finds humour in the darkest of places; it's only right that he has is very own eclectic Jura Unbound night and the art of translation is explored in Multiples with Adam Thirlwell and Daniel Hahn improvising a wild multilingual evening.
Stripped, the new strand of the Book Festival which takes a closer look at graphic novels and comics, embraces the Jura Unbound mayhem. World-renowned Literary Death Match premieres Comic Death Match and Illicit Ink team up with Graphic Scotland to combine stories on the page with illustrators on the stage in Tales from the Strip.
Jura Marketing Director Cara Chambers comments; 'Jura encourages everyone to write their own story. At Jura Unbound authors and the audiences can enjoy storytelling with a fine free dram, to help ignite their creativity and passion for the written word. We are delighted to be a part of Jura Unbound.'
Jura Unbound is free and unticketed and takes place every evening from 11 – 26 August from 9.00pm – 11.00pm in the Guardian Spiegeltent in Charlotte Square Gardens. The Skinny is the media sponsor of Jura Unbound, and the full listings are available from today in this month's edition of The Skinny magazine and online at www.edbookfest.co.uk.
More articles