More articles Sunday 23 August 2020 12:45pm
Sarah Moss Considers Ordinary Lives and Unhappy Campers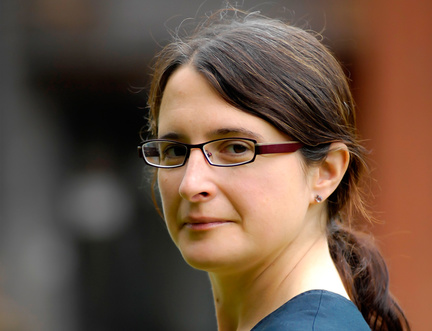 Download PDF
"I'm always really interested in the writing of everyday life because … when we're desperately worried about climate change or even a pandemic or the multiple ends of the world, you still have to put dinner on the table." Said Sarah Moss, author of Summerwater in conversation with Lennie Goodings today at Edinburgh International Book Festival Online.
To disregard the routine in art is an "issue of gender politics" says Moss. "You know, if women's work is not worth writing about then there's also a decision that women's lives aren't worth writing about. I think you absolutely have to make poetics of cleaning the bathroom because otherwise you're not paying any attention to all the people who clean all the bathrooms." Moss, often revered for her expertly crafted familial relationships and depictions of everyday life, brings her nuanced style to rainy Scotland in her new book.
Summerwater is set over twenty-four hours in a Scottish cabin park and sees twelve people rooted in their routines with their families on holiday in ceaseless rain. Each family barely interacts with each other and spends the time separated by cabins and degrees of difference in class and circumstance. Written before lockdown, Moss wanted to look at whether there was enough in common in this makeshift community for them to come together when emergency strikes.
"Of course I was thinking about Britain and post-Brexit Britain and post-election Britain but I was also thinking about countries all over, where these political divisions have become so acute it's hard to get the family around the table anymore."
Moss goes on to say these divisions are magnified online today, "one of the reasons I don't use social media is that it seems everything is right or wrong and I don't think that's clever or useful … It would be nice if things were that simple but they're not."
Moss finds herself agreeing increasingly with Keats' idea of negative capability in her outlook on life and in her artistic work. She explains to Goodings that "being able to live with uncertainty and doubt, and particularly two things which are incompatible but both true, is really where interesting work begins, whether that's writing or teaching."
Moss currently teaches Creative Writing in the English Department at University College Dublin and has spent lockdown in Ireland with her family. They moved to Ireland recently after having spent much of her life moving often around Britain and memorably to Iceland for a year, about which her memoir Names of the Sea: Strangers in Iceland is centred on.
When asked by Goodings, Moss says she's happy in Ireland. A previously restless soul, she sees herself settling there for good.
This event was supported by the Hawthornden Literary Retreat. Edinburgh International Book Festival online continues until Monday 31 August. All events are free to view through the Book Festival website edbookfest.co.uk.
More articles