More articles Wednesday 15 August 2018 10:06pm
Scottish 3D photography pioneer is 'underestimated and under-rated', according to Queen's Brian May.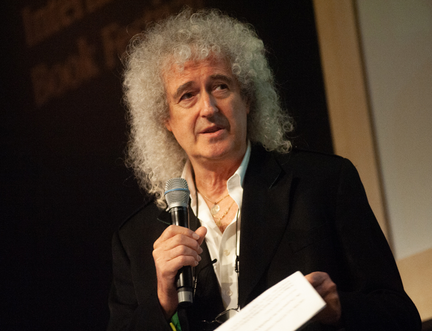 Download PDF
A 19th century pioneer of 3D, spectroscopic photography is "underestimated and underrated," according to Dr Brian May, lead guitarist of Queen and a life-long enthusiast of the medium.
May was speaking at this year's Edinburgh International Book Festival, sharing the stage with Professor Roger Taylor (not his fellow band mate, the drummer Roger Taylor), the author of a new book celebrating and representing the work of George Washington Wilson.
"Wilson was the pre-eminent Scottish photographer in the 1850s; he was massive," said May, who has written the introduction to the book. "His stereoscopic images sold in their millions, not just in Scotland but all over the world. In the last few years he's been seriously neglected and hopefully this book will put him back on the map.
"Stereoscopic photography as a whole has been seriously neglected and sidelined for about a century now, and we're on a mission to bring 3D photography back to the 21st century," May added.
Professor Taylor insisted that Wilson "was always into innovation"; for example, he produced what is now recognised as the world's first photo-montage, and was influential in improving exposure times which enabled more realistic representations of the sky – which in the early days of photography tended to be bleached white because of long exposure times.
Yet he wasn't just into the technical side of photography. "He doesn't use light just to make an exposure; he uses light expressively," Taylor added, as he showed the audience a succession of Wilson's beautiful landscapes.
May himself first encountered stereoscopic photography at the age of 12, and fell in love with the medium, taking a 3D camera with him while touring with Queen. This has enabled the publication of Queen in 3D, a revised edition of which will be published later this year.
"It's always been a passion of mine, and I always took a camera on tour," he said. "I took a lot of stereoscopic pictures and I was excited by them at the time, but then I put them away in a drawer, and some of them were not even processed.
"My favourite picture in the Queen in 3D book is one I have no memory of taking; it's of Freddie Mercury backstage, doing his make-up. It's very intimate, very personal; the sort of thing the paparazzi could never get. That picture is something that is so precious to me, so candid and personal, but it's 3D as well; you really feel you could walk into the photograph and touch Freddie."
More articles