More articles Saturday 13 August 2016 4:15pm
Scottish Author Ali Smith Opens Edinburgh International Book Festival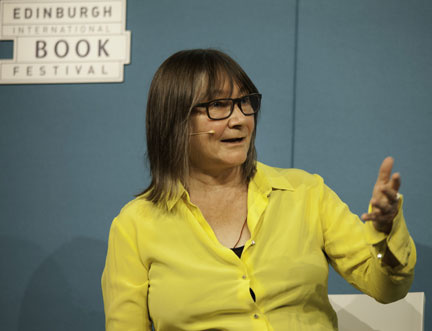 Download PDF
Saturday 13 August 2016
BREXIT VOTE WAS "LIKE BEING HIT WITH A BRICK",
SAYS SCOTTISH AUTHOR ALI SMITH AT EDINBURGH INTERNATIONAL BOOK FESTIVAL
Fear, friendship, the forthrightness of childhood and the frenzied politics of summer 2016 all came up for discussion as two of Scotland's most celebrated writers took the stage for the first blockbuster event of the 2016 Edinburgh International Book Festival. The nation's makar Jackie Kay displayed infectious enthusiasm as she welcomed her close friend, multi-award-winning novelist Ali Smith, to discuss her work and offer an exclusive sneak preview of her new work, Autumn. Autumn will form the first instalment of a new quartet of novels named after the seasons of the year. Each book will stand alone, Smith explained, but the four will also finally comprise a complete work, which will – she thinks – be titled Seasonal. If it's all still a little vague, that's because the project is very new indeed. "I handed this in on Monday," a nervous Smith explained, jostling manuscript pages, "and I haven't read any of it out loud."
The freshness of the material shared with the audience was apparent from its raw, breathless account of the immediate aftermath of the Brexit vote. "I just wrote down what was happening," said Smith. In an impassioned, incantatory passage, she characterises the June decision as at once a seismic social change and a phoney one: an apparent shift of power balances after which the same injustices remain entrenched. To Jackie Kay, one consequence was for Scottish people to feel more separate from their near neighbours: "Being in Scotland has probably never felt more different than being in England." But the result was, Smith said, "like being hit with a brick" whichever side you were on and wherever you were watching from.
The blunt object of Brexit strikes the narrative of Autumn as part of the life experience of Elizabeth, who is seen in the 1990s as a smart, introverted young girl, and in the present day as a grown woman and art history academic. Her comically fractious relationship with her flighty mother, and her friendship with an elderly, artistically inclined neighbour both endure as the years pass by. Time, what it changes in us and what it leaves untouched, are major themes of the book, Smith said. "We're victims of our history, and at the same time we're not: we're celebrations of our history," she said. Other influences on the ever-mercurial and erudite author include Homer's Odyssey - which she reread as the refugee crisis sharpened its themes of war, statelessness and hospitality – the largely forgotten English pop artist Pauline Boty, and Shakespeare's swansong The Tempest. But according to Smith - a past winner of the Whitbread, Costa, Baileys, Goldsmiths and Saltire book awards – her work also has a tendency to form itself. "You don't get to choose what you write about," she said. "There's a sense in which these characters are developing on their own terms and I've just got to plug into it." They did the majority of this development, she said, via, dialogue: significant, given the contemporary challenge of "how we negotiate from fixed positions."
Kay, one of the privileged few to have read the manuscript in full, was unequivocal in her praise, lauding Autumn for its "astonishing sense of hope" and calling it "a miraculous book". Smith, meanwhile, is already looking ahead to a change in the seasons. "God knows what will happen next year when I try to write Winter," she said, "and where we'll be."
Autumn is set for release on 20th October 2016
More articles