More articles Wednesday 11 June 2014 11:59am
Stories from around the world in the Baillie Gifford Children's Programme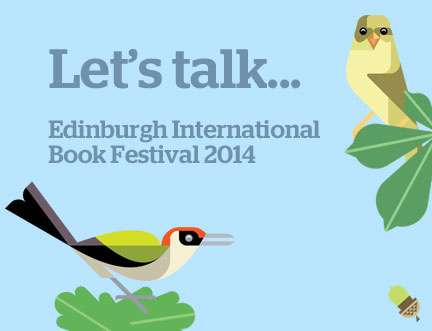 Download PDF
The Edinburgh International Book Festival's Baillie Gifford Children's Programme this year offers stories in all their forms and for all ages from babies to young adults, and everyone in between. There are stories from many vibrant nations including Ethiopia, Australia, New Zealand, Canada and Ireland and from bestselling, established names alongside exciting and emerging talent. There are stories on a wealth of subjects from Vikings to the First World War, witches to fairies and robots to spacemen.
Janet Smyth, Director of the Baillie Gifford Children's and Schools Programmes comments, 'Whether it's celebrating inspiring picture books for toddlers or dystopian fiction for teens, or engaging young people through our acclaimed schools and outreach programmes, we believe that books and stories are essential for children and young adults to understand and respond to the complexities of our world.'
Children's favourite Julia Donaldson visits Charlotte Square Gardens with her latest book The Flying Bath. Carrie and David Grant from hit CBeebies show Popshop are back with another foot-stomping event and actor Mackenzie Crook brings his new book The Lost Journals of Benjamin Tooth. Indie singer/songwriter Aidan Moffat of Arab Strap makes his Book Festival debut with The Lavender Blue Dress while Queen of Teen author Maureen Johnson flies in from New York to talk about the creation of her vivid alternative world.
There has been rise in popularity of modern Gothic fantasy novels for children and young adults and Gill Arbuthnott, Eleanor Hawken, Cathy MacPhail, Roy Gill, Barry Hutchison, Piers Torday, Curtis Jobling and Darren Shan will immerse audiences in their fantastical, and sometimes gruesome, worlds. Among the ranks of exciting emerging talent in the programme audiences will find fantasy and thriller writers Sally Green, 19 year old Lucy Saxon, Emma Haughton and Rupert Wallis.
Award-winning author Frank Cottrell Boyce drives Chitty into the 21st century with Chitty Chitty Bang Bang Over the Moon, his daring third sequel to Ian Fleming's original. Michael Rosen will be popping by to celebrate 25 years of his popular children's classic We're Going on a Bear Hunt and Macastory presents a song-filled retelling of the Battle of Bannockburn.
Lauren Child, creator of Charlie and Lola, is this year's Guest Selector and will be speaking to Judith Kerr, beloved author of The Tiger Who Came to Tea about childhood memory and imagination and how it has played into their own creativity. The 2014 Book Festival Illustrator in Residence is James Mayhew, creator of the popular Katie's Picture Show and Ella Bella Ballerina. Mayhew is joined by a number of other illustrators, hoping to inspire young audience members to create characters of their own, including Ed Vere with Max the Kitten, Petr Horáček and Axel Scheffler, famed for his illustrations of The Gruffalo.
2014 marks the 100th anniversary of the First World War and the French writer and illustrator Barroux is joined by Michael Morpurgo to discuss his new graphic novel, Line of Fire, based on the diary of a French soldier, while father and son writing duo Tom and Tony Bradman tell Stories of War. Following his bestselling The Boy in Striped Pyjamas, John Boyne returns with a moving story of a boy's search for his missing father in Stay Where You Are Then Leave. Mark Greenwood and Frané Lessac tell the story of an Australian soldier and his horse in a touching account of one of the last great cavalry charges in history.
Siobhan Dowd, an award-winning author, died in 2007 and bequeathed her royalties to a trust with the aim of bringing the joy of reading to those who need it most. The Book Festival is honoured to host the inaugural Siobhan Dowd Trust Memorial Lecture, which will be delivered by acclaimed novelist Patrick Ness. His novel, A Monster Calls, based on an idea of Siobhan's, won the 2012 Carnegie Medal.
Children's Laureate Malorie Blackman introduces Noble Conflict, her latest political novel for teenagers. Shrewd insights into the highlights, pitfalls and vulnerabilities of life as a teenager are also covered by authors Melvin Burgess, Matthew Quick, Cat Clarke, Jennifer E Smith and David Levithan who explores the true tale of two boys and their record-breaking attempt at the longest kiss in Two Boys Kissing.
Inspirational education activist and Pakistani school pupil Malala Yousafzai makes a rare public appearance at the Book Festival in the Baillie Gifford Schools Programme giving pupils in Scotland the opportunity to hear first-hand about her life and her campaign for education. There are over 60 events in the Baillie Gifford Schools Programme, which not only brings school parties into Charlotte Square Gardens in August but also takes authors out to schools across Scotland to interact with students.
Additional highlights in the Baillie Gifford Children's Programme
New for 2014, part of the Book Festival's Outreach activities, is the Writer in Residence project created in collaboration with Lyra Theatre, a community based theatre in Craigmillar, Edinburgh. For six months, author and artist Catherine Rayner is working with pupils in St Francis Primary School to create their very own book. The Big Book of Dreams will compile the stories and illustrations by P1 (age 5) and P6 (age 10) pupils. The project links in with the work that the school undertakes to help vulnerable children gain access to books and establish a sound bedtime routine.
Award-winning comedian David O'Doherty brings his first book Danger is Everywhere: A Handbook for Avoiding Danger to Charlotte Square Gardens while New York's cabaret star and actor Craig Pomranz presents his charming debut Made by Raffi. Actor Mackenzie Crook pops in with his first two books, The Windvale Sprites and The Lost Journals of Benjamin Tooth.
Stripped, the popular graphic novel and comic strand, returns with a series of events for children and young adults, including the launch of IDP:2043 a brand new graphic novel commissioned by the Book Festival, the Phoenix Comic Workshop and French author and illustrator Barroux who speaks about his remarkable WWI graphic novel, Line of Fire.
Norse fact meets fiction when Irving Finkel from the British Museum joins popular novelist Francesca Simon for some Viking adventures.
There are cuddly animals aplenty in the gardens. Former Children's Laureate Anthony Browne brings a 30th anniversary edition of his well-loved picture book Gorilla. Hugless Douglas visits with creator David Melling and Babette Cole introduces her fantastic new picture book The Wildest West Country Tale of James Rabbit and the Giggleberries, a hilarious look at animal characters inspired by Beatrix Potter.
For older children, author of the bestselling H.I.V.E series Mark Walden discusses his latest sci-fi blockbuster Earthfall: Retribution and acclaimed author Joan Lingard brings her latest book Trouble on Cable Street, which explores the rise in fascism across Europe.
A successful Scottish Commonwealth Games athlete of the last century is celebrated in a special event by Macastory when they tell the story of Donald Dinnie. In a career spanning 50 years and 11,000 competitions Donald Dinnie excelled in everything from sprinting to pole vaulting, hammer throwing to caber tossing.
Every day there are free events for younger readers from the rhyming, reading and singing Totseat's Are you Sitting Comfortably? to Bookbug and even Big Draws! The Book Festival will host free crafting and art sessions throughout the Festival.
More articles