More articles Wednesday 10 June 2015 11:59am
The Baillie Gifford Children's Programme Explores a Changing Culture in Children's Literature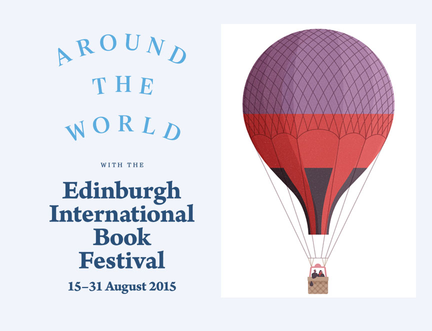 Download PDF
In 2015 the Edinburgh International Book Festival's Baillie Gifford Children's Programme explores books and stories in translation allowing young people the opportunity to look imaginatively beyond their own experiences. Involving authors and illustrators from a wealth of nations, the Book Festival examines how young people's literature needs to be reflective of our multi-cultural, multi-lingual world.
Janet Smyth, Children and Education Programme Director, comments, 'The more we learn of other countries and cultures the better we understand our world and our place in it. It is particularly important for young people to visit a festival that welcomes their cultures, backgrounds, heritage and languages. We welcome writers and illustrators from Europe, China, Iran and Australia as well as from across the UK to explore everything from contemporary stories to myths and folk tales.'
Every day the world continues to change and diversify but these cultural changes are not always reflected in children's literature. Indigenous Australian writer Bruce Pascoe joins award-winning author David Almond and Alison Hubert, Director of Book Aid International, to debate the importance of offering children books that show the wider world and themselves within it.
From China, one of the greatest living masters of Islamic calligraphy, Haji Noor Deen, renders ayahs from The Qur'an into beautiful calligraphy. Iranian illustrator Anahita Teymorian talks about translating picture books, Norwegian former footballer Lars Joachim Grimstad introduces his novel The Disappearing Children, and French graphic novelist Barroux launches his new wordless picture book. Comedians Julian Clary and Danny Wallace both present their first children books. Cressida Cowell launches the last in her How to Train your Dragon series, while Kristina Stephenson and Derek Landy each reveal their brand new series. Patrick Ness exclusively launches his much anticipated new novel.
As the rate of scientific discovery accelerates, it is increasingly important we are a science literate populace. Guest Selector, Gill Arbuthnott, will explore the world of science communication, particularly for young people, with the likes of Robert Winston and Christiane Dorion.
Multi-award winning Scottish writer and illustrator, Debi Gliori, is this year's Illustrator in Residence. Debi will explore how to reframe your own life stories through art. She will talk to adults, young adults and tots in a series of events including a Big Draw for children of all ages in the Baillie Gifford Story Box.
Younger children can enjoy free craft activities every day, and free storytelling sessions every morning in the Baillie Gifford Story Box and there are a number of events of interest to young adults, with a wide selection of readings, author sessions, workshops and discussions for every age group in between.
The Edinburgh International Book Festival welcomes over 900 participants from 55 different countries to Charlotte Square Gardens this summer, and runs from Saturday 15 to Monday 31 August 2015. Full details of the adult and Baillie Gifford Children's Programme can be found at www.edbookfest. co.uk. Tickets to all events go on sale at 8.30am on Tuesday 23 June 2015, online at www.edbookfest.co.uk, by phone on 0845 373 5888 or in person at the Box Office at the Roxburghe Hotel on George Street (on Tuesday 23 June only, thereafter at The Hub, Castlehill).
More articles