More articles Thursday 20 August 2020 3:45pm
The Climate Crisis Viewed from a Personal Perspective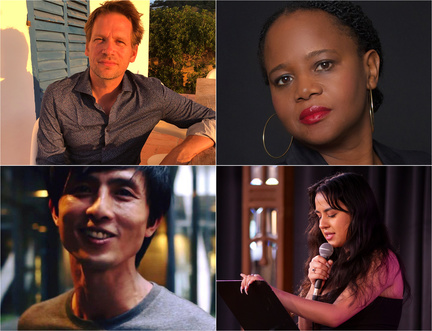 Download PDF
We are facing probably the greatest threat to human civilisation there has ever been" so said John Freeman, editor of Tales of Two Planets as he introduced a discussion on the climate crisis at the Edinburgh International Book Festival this afternoon.
Joining Freeman, who was in London, were Haitian-American writer Edwidge Danticat from Miami, Aotearoa poet Tayi Tibble from Wellington in New Zealand and British-Malaysian photographer Ian The from Kuala Lumpur. All three authors have contributed essays or poems to the anthology addressing their personal experiences of climate change and climate change action.
Answering Freeman's initial question on what the climate crisis felt like from their perspective, Edwidge Danticat expressed concern about the gentrification of working class neighbourhoods in Miami as people move away from the traditionally desirable beach front properties resulting in the displacement of communities. "It's like gentrification on steroids."
Ian The looked back at his trips to China between 2006 and 2010 when the country was industrialising at an extraordinary rate saying "People were excited about the new China and the opportunities it offered. China lifted many people out of poverty through industrialisation. There was a sense of optimism in contrast with having so little for so long."
He went on to talk about his Dark Clouds collection of images focussing on the environment and human impact on the environment, explaining that there were 150 million migrant workers at that time in China and this extraordinary pace of change was made possible by the amount of cheap labour and cheap energy – two coal fired power stations were being built every week. "It felt like the country was taking out a mortgage into the future. They were sacrificing their life now
in order to improve their life after many decades of poverty. This was their chance to break out."
Edwidge Danticat agreed saying "The most vulnerable people in the world have their fates tied to places, people and circumstances that are way beyond their control."
Turning to New Zealand, Tayi Tibble discussed the indigenous people's attachment to the land saying "We believe the earth is our mother. We feel a protection towards the land." She went on to conclude "Climate change is a direct consequence of colonisation."
This event was sponsored by Royal Bank of Scotland. The Edinburgh International Book Festival Online continues until Monday 31 August. All events are free to view through the Book Festival's website edbookfest.co.uk.
More articles