More articles Thursday 21 June 2012 12:05pm
The Edinburgh International Book Festival invites authors and audiences to rethink the world around them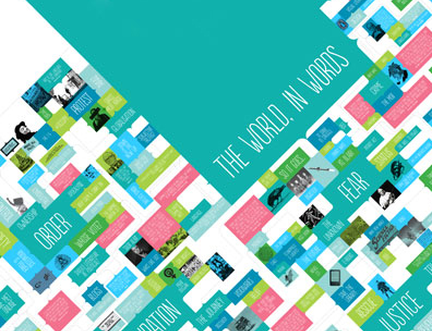 Download PDF
In a fast-paced world filled with ever-changing soundbites and 140 character opinions, the Edinburgh International Book Festival provides the perfect environment to carefully consider the society in which we live. In 2012 the Book Festival will rethink some of the issues facing the world today, offering audiences the opportunity to engage in thoughtful discussion with leading writers from across the globe. Charlotte Square Gardens will welcome Nobel Laureates, Booker and Pulitzer Prize winners and Poets Laureate as well as a stellar line up of the world's leading writers, poets, thinkers and commentators. With Guest Selectors, the Anobii First Book Award, the Edinburgh World Writers' Conference, the gamut of outstanding authors from Ali Smith to Zadie Smith, and a third year of the late night Unbound events, the Book Festival promises a summer of contemplation, inspiration and entertainment.

Nick Barley, Director of the Edinburgh International Book Festival said "In 2012, the Year of Creative Scotland, we are delighted to showcase some of the best Scottish writing, from well-established authors to debut novelists, as well as welcoming some extraordinary literary talent from around the world to help us rethink aspects of society that affect our everyday lives. This is a year for taking stock about what matters to us in a time of uncertainty, doubt and data overload. It is also, of course, a time when Scotland is preparing to make a big decision about its own future. All this and more will be discussed, deliberated, considered, broadcast live online via the Edinburgh World Writers' Conference, and disseminated around the world – we look forward to a lively, informed and informative debate."

In Edinburgh to launch their brand new books will be Ian McEwan, James Kelman, Will Self, Pankaj Mishra, Pat Barker, Gavin Esler and Louise Welsh while Zadie Smith, Howard Jacobson, Val McDermid and A N Wilson will offer exclusive previews of their forthcoming novels. Joining them in a packed programme will be over 800 authors appearing in 750 events and representing 44 different countries from Australia to Russia, Argentina to Nigeria. The prestigious James Tait Black Memorial Prize will be announced at the Book Festival, together with the Edwin Morgan Poetry Prize and the Scottish Mortgage Investment Trust Book of the Year award. Former Prime Minister Gordon Brown will deliver the National Library of Scotland's Donald Dewar Lecture and John McCarthy will speak at the inaugural Frederick Hood Memorial Lecture.

In addition to world renowned writers, Edinburgh has always been the place to discover something new and, for the third year, Book Festival audiences will be encouraged to vote for their favourite debut novel. The First Book Award, this year supported by Anobii, a new social network for book lovers, features 45 debut novelists writing for adult and young adult readers including the actor John Gordon Sinclair, International Prize for Arabic Fiction winner Youssef Ziedan, comedian Russell Kane, Dutch author Herman Koch with the first English translation of his best-selling novel The Dinner, Edinburgh's own Jennie Erdal and the launch of one of the most eagerly anticipated books of the year, Liza Klaussmann's Tigers in Red Weather.

Broadcasters James Naughtie and Sue MacGregor have been invited to curate their own series of events in the programme as 2012 Guest Selectors. Naughtie will look at Britain Today with politicians Tom Watson, Paddy Ashdown, Alistair Darling, novelist Zadie Smith and poet Ruth Padel. Sue MacGregor will discuss A Survival Kit for the Information Age with Maajid Nawaz, Prue Leith, Charles Ferguson, Tessa Hadley, Sarah Hall and A L Kennedy. MacGregor commented "I'm delighted by a new bookish challenge – exploring how we deal with the Information Age, when ideas good and bad, current events and of course whole books can be flashed across the universe in a nano-second." The Guest Selector for the RBS Children's Programme is Vivian French who will explore The Power of Words Through Play while Chris Riddell will be the 2012 Illustrator in Residence.

The Book Festival's popular debates series will take a fresh look at a range of important issues. Audiences and speakers, including David Lammy, Mihir Bose, Joanna Blythman, Ferdinand Mount, Menzies Campbell, Noo Saro Wiwa and Mustafa Cerić, will rethink topics ranging from radical Islam to the role of Europe, from the way food is viewed to Scotland's Independence, from Putin's Russia to whether the markets are the best means to regulate society.

From 17 to 21 August, in an ambitious programming partnership with the British Council, a series of discussions will take place at the Book Festival stimulating a debate which will reverberate around the world. The Edinburgh World Writers' Conference 2012-2013, inspired by the seminal 1962 Writers' Conference in Edinburgh, will bring fifty leading Scottish and international fiction writers together over five afternoons to discuss how writing and the imagination are an essential component of society. Starting in Charlotte Square Gardens, the Edinburgh World Writers' Conference will travel around the world. Across thirteen countries, from Trinidad to Russia, via Egypt, India, Australia and Canada, the ensuing global discussion will represent the greatest gathering of writers' voices ever staged. The event will return to the Edinburgh International Book Festival in August 2013 after which the highlights of the global discussion will be assembled in a landmark book about writing today.

August 2012 will see the publication of Elsewhere, four themed volumes of new writing from fifty internationally acclaimed authors including Amy Bloom, Roddy Doyle, Ali Smith and Michael Morpurgo. Elsewhere was commissioned in 2010 by the Book Festival, with the support of the Scottish Government's Edinburgh Festivals Expo Fund, and its publication marks an innovative publishing and design collaboration between Glasgow-based publisher Cargo and US-based McSweeney's.

Fiona Hyslop, Cabinet Secretary for Culture and External Affairs, said: "The Edinburgh International Book Festival is the world's biggest celebration of the written word - showcasing Scotland on an international stage and promoting our exceptional cultural, creative and literary talent to authors and readers from around the world.
"The Scottish Government is firmly committed to increasing learning through the arts and culture, and building on our global reputation for creative excellence. That is why, during 2012 - The Year of Creative Scotland, I am delighted to be supporting the Edinburgh World Writers' Conference, and why I announced this week that Scotland will host its first national celebration of reading during 'Book Week Scotland' later this year."
The RBS Children's Programme will delight young readers of all ages with appearances from some of today's best-loved children's authors. Jacqueline Wilson will offer an exclusive sneak preview of her re-interpretation of the classic Five Children and It, while Andrew Motion will be reading from his sequel to Treasure Island and Frank Cottrell Boyce from his sequel to Chitty Chitty Bang Bang. Val McDermid will present her first book for children, and a wealth of international authors will include Shaun Tan, Garth Nix and Margo Lanagan from Australia, Kathryn Erskine from the USA and the French illustrator Stephane-Yves Barroux.

The Edinburgh International Book Festival runs from Saturday 11 August to Monday 27 August in Charlotte Square Gardens in the heart of Edinburgh. Tickets go on sale on Friday 29 June at 8.30am: online at www.edbookfest.co.uk, by phone on 0845 373 5888 or in person on Friday 29 June only at the Roxburghe Hotel, Charlotte Square, Edinburgh, and from Saturday 30 June to Thursday 9 August, Monday to Saturday 10.00am to 5.00pm (Friday 10 August 10.00am to 2.00pm) at The Hub, Castlehill, Edinburgh then at the Box Office in Charlotte Square Gardens from Saturday 11 August.

More articles