More articles Tuesday 28 June 2011 5:31pm
Unbound returns to Edinburgh International Book Festival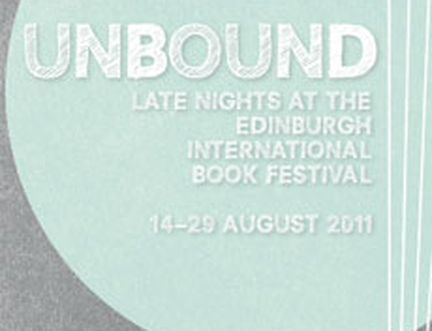 Download PDF
Literary nights are set to continue a little bit longer this August with the return of Unbound to the Edinburgh International Book Festival. After its triumphant debut last year, the festival within a festival will run between 14 and 29 August, featuring a fusion of music and spoken word and bringing together the best of local and international talent for fifteen live literature nights in the Spiegeltent in Charlotte Square Gardens.
This year's line up includes events with mammoth US literary magazine The Paris Review, an evening with contemporary Australian authors hosted by Melbourne based publisher Sleepers, US singer-songwriter Kristin Hersh and the first visit to the Festival for Literary Death Match, the cultural phenomenon that has swept the globe and pitches teams of writers against each other with only words as their weapon.
Local Scottish talent appearing at Unbound includes The Fence Collective's James Yorkston and The Pictish Trail, Glasgow based publishers Cargo and the Arches' literary night Words Per Minute, Edinburgh spoken word collective Writers' Bloc, as well as The Golden Hour. Unbound will also pay tribute to one of Edinburgh's brightest stars, the late Paul Reekie; the Rebel Inc. author will be honoured in a special event featuring Irvine Welsh, Gordon Legge, Kevin Williamson, Vic Godard and many more of Reekie's friends and colleagues.
Scottish comedian Des Dillon will close this year's Unbound programme, bringing his stand-up show to the Spiegeltent for one night only.
Roland Gulliver, Programme Manager of the Edinburgh International Book Festival said, "We are thrilled to be presenting the second Unbound programme at this year's Edinburgh International Book Festival. The first year was a journey of discovery, bringing something new each night to our Spiegeltent in Charlotte Square Gardens, and we were thrilled by how much fun everyone had!"
"In 2011 we are looking to build on that success, to create a programme full of energy, excitement and a little bit of the unknown, bringing back some friends from last year and presenting some new faces; to celebrate the fantastic live literature scene in Scotland; to present some special events from around the world; to bring together writers, musicians and artists together to create something different each night; and most importantly to enjoy the magic of literature and stories late into the night!"
Unbound is supported through the Scottish Government's Edinburgh Festivals Expo Fund and as such is completely free and unticketed. All events start at 9pm and the full programme can be found online at www.edbookfest.co.uk and in copies of the July issue of The Skinny, the media partner of Unbound.
More articles