More articles Monday 24 August 2015 1:20pm
Usain Bolt's Performance Discussed at Edinburgh International Book Festival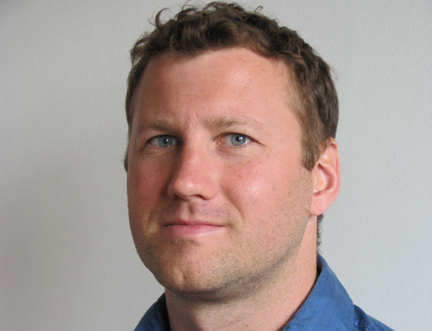 Download PDF
STORIES of superhuman endurance, massive egos and personal sacrifice dominated a discussion of the rise of the Jamaican athletics team and the Kenyan long distance runners. Journalists Richard Moore, author of The Bolt Supremacy which examines the career of Jamaican 100 metre Olympic champion Usain Bolt; and Ed Caesar, whose book Two Hours looks at Kenyan marathon star Geoffrey Mutai, talked about how, while their books focused on the exceptional individuals, the athletes were 'a way in' to investigating the system that produced them.
Caesar described Mutai as a "paragon of economy", and the "superior marathon runner in the world". "Geoffrey is a massively interesting, incredibly soulful, reflective, interesting human being, who went through probably the most appalling childhood you can imagine: he was beaten up by his father, made homeless because of the decisions of his parents. He overcame the start of a drink problem in his late teens, he hardly finished school. To get from where he was to where he got to, which is without doubt the non-parallel runner of his generation is an astonishing story."
He said that Mutai was one of an elite class of Kenyan runners little of which was known about despite the fact that they were achieving physical feats never seen before to beat all-comers.
Similarly, while Bolt may arguably be the most famous athlete in the world, Moore said that far less was known about the system that produced him and a whole raft of elite Jamaican athletes.
"I felt Bolt was the symbol of this Jamaican phenomenon," he said. "I wanted to look at the far wider question of what produced him, because he's not a one-off. Arguably Shelly Ann Fraser Pryce is as impressive as he is. She could be on the verge of becoming the most successful female sprinter of all time but gets a fraction of the attention. And there are so many others, the domination is incredible."
Though only a small percentage make the top grade, athletics offered a way out of poverty for Jamaican and Kenyan runners, with the potential to earn massive rewards. Mutai, Caesar said, had received $300,000 for simply turning up at the starting line of the Boston marathon.
In the case of Jamaican runners, those who do not make it to the top flight, still have the hope of being scooped up by an American college talent scout at the annual school athletics event which dominates the country's sporting calendar.
Moore said: "When I first went to Jamaica, it was for The Champs, the annual secondary schools championships. It takes place in the national sports stadium; it's broadcast live on TV; 30,000 people attend them, it's a full house; and on the final day the gates were closed five hours before the games really got on the way. The atmosphere in there was incredible, frenzied. It was a real family atmosphere, but with an edge to it. It felt dangerous. There was a real tribalism from the different schools, it meant really meant something to them."
Caesar said that modern Kenyan marathon runners had changed their approach to marathons, moving from treating it as endurance event to a "hyper-aggressive" sprint. In a 40,000 metre run, Mutai, he said, would kick-start sprinting at 10,000 metres, which meant he would be running flat out for 30,000 metres.
This was reflected in the training, he said: "It's not pure endurance. They've out-trained the distance, they're not diesel engines any more, they're turbo-diesel engines. So what they'll do is a lot of very fast intervals. They'll do two minute intervals at full-sprint and then a minute off."
Describing the camps as being sparse, with no running water and very little electricity, Caesar said that Kenyan runners were doing three sessions a day, covering 125 miles a week, which over a four-month preparation for a marathon is the equivalent of running from New York to LA. "You realise that it's not the distance that is the challenge," he added. "It's what they are trying to do within the distance."
Moore said that he believed Bolt's jokey, relaxed track-side persona hid the true extent of his preparation for a race. "I think sometimes the mask slips, and a lot of it is an act, but it's a necessary act," he said. "It's a self-fulfilling prophesy, I suppose: if you act relaxed then you are relaxed. "
He added, though, that when Bolt was disqualified from the World Championships in 2011 "we saw the real Usain Bolt, because we saw what it meant to him. And this is an interesting thing about Bolt: obviously he trains really hard, and we know how hard marathon runners train, but I don't think we appreciate how hard sprinters train. These guys can go so deep that they can make themselves physically sick, that's quite a common occurrence."
Moore said that he thought he had upset Bolt's trainer, Glen Mills, after including an anecdote told to him by an agent in which he said after the runner had won Olympic gold at London 2011 that he would not win the gold again at Rio in 2016.
He said: "I received an email from this agent saying, Glen Mills is never going to speak to you again. You don't understand that his job is managing Bolt's ego, and if it gets reported that Mills said that about him in London, Bolt will be impossible to manage. It's really interesting because he shows that there's a side to him that he doesn't let us see."
-ends-
More articles