More articles Monday 29 August 2011 10:30pm
World Premiere Closes the 2011 Edinburgh International Book Festival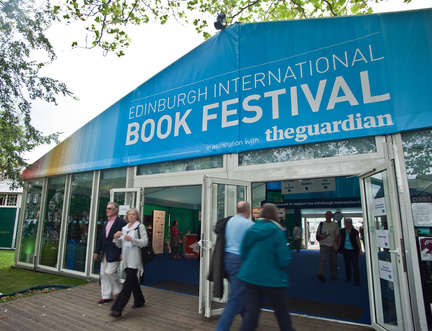 Download PDF
An ambitious performed reading of Alasdair Gray's play Fleck, featuring 18 authors and actors, was staged this evening at the Edinburgh International Book Festival. Gray himself was joined on stage for the sell-out event in Charlotte Square Gardens by Will Self, Ian Rankin, Janice Galloway, Cora Bissett and a host of renowned Scottish writers.
Nick Barley, Director of the Edinburgh International Book Festival, said 'This is the most ambitious event we have ever staged at the Book Festival, and we are delighted that it has been so well received by participants and audiences alike. This year's Festival has seen a wonderful array of writers from around the world. Our authors and audiences have discussed and debated the Arab Spring, the London riots, China, India, the influence of social media and the futures of Europe, Cities and even Faith. We've enjoyed launching brand new work from Michael Ondaatje, Dava Sobel, Tom Devine, A L Kennedy, Heather Brooke and Tam Dalyell and welcoming 47 debut authors.'
'I am delighted to announce that to close the Book Festival this year we have just signed a publishing deal with Cargo to produce a box set (designed by McSweeney's) of the new writing commissioned by the Book Festival over the last 12 months. Supported by the Scottish Government's Edinburgh Festivals Expo Fund, we invited 50 writers from Scotland and around the world to create a new piece of writing on the theme of Elsewhere and made the texts available to read on our website. Participating authors include Michel Faber, Yiyun Lu, Jackie Kay, Michael Morpurgo, David Almond, Alberto Manguel and Roddy Doyle and the book will be available at the Book Festival next year.'
The 2011 Book Festival has featured almost 800 participants from 40 countries including Nobel Laureate Gao Xingjian, Poet Laureate Carol Ann Duffy as well as 5 of the 13 authors long-listed for the 2011 Man Booker Prize. Highlights of the 17 day Festival included exclusive pre-publication readings from Bettany Hughes, Fiona MacCarthy and A N Wilson, the delivery of the Donald Dewar Memorial Lecture by former Lord Advocate Dame Elish Angiolini, the unexpected appearance of former Prime Minister Gordon Brown who joined his wife Sarah on stage to discuss her book Behind the Black Door and Scotland's First Minister, Alex Salmond in conversation with Iain M Banks. The four guest selectors, Alan Little, Joan Bakewell, Audrey Niffenegger and Children's Laureate Julia Donaldson, curated and chaired a series of events under the respective themes of Revolution in the 21st Century, Key Ideas of the 21st Century, Writing without Boundaries and Rhyme & Reason: How Children Learn.
Three major literary awards were announced at the Book Festival – the James Tait Black Prize for Fiction was won by debut novelist Tatjani Soli and for Biography by theatre critic Hilary Spurling, The Edwin Morgan International Poetry Competition was won by Jane McKie and finally Creative Scotland's Scottish Mortgage Investment Trust Book of the Year Award was won by Jackie Kay for Red Dust Road.
Edinburgh International Book Festival is a founding partner of the Word Alliance, a network of international book festivals including The Bookworm International Literary Festival, Beijing, The International Literature Festival in Berlin, Melbourne Writers Festival, the Jaipur Literary Festival, the International Festival of Authors in Toronto and the Pen World Voices Festival of International Literature in New York. It is intended that the group will ultimately expand to include Africa and Latin America. As part of the Word Alliance touring programme, the Book Festival this year welcomed Chan Koonchung, Bi Feiyu and Wang Hui from China, Steven Amsterdam, Morris Gleitzman and Shaun Tan from Australia and Robert Coover, T C Boyle and Tobias Wolff from the USA.
A performed reading of Alasdair Gray's Fleck will be staged at the International Festival of Authors in Toronto later this year featuring Ian Rankin, Rodge Glass, Alan Bissett and Zoe Strachan from the Edinburgh cast as well as Denise Mina.
The second year of Unbound, the series of free evening live literature events in the Spiegeltent has been very well received. A further Unbound event, featuring Ryan Van Winkle, Ewan Morrison, Emily Ballou and Christos Tsiolkas, will be staged tomorrow (30 August) in Melbourne with the support of the Scottish Government's Edinburgh Festivals Expo Fund. The funding also allowed the Festival to deliver a more ambitious Unbound programme in Charlotte Square Gardens and to film a number of performances which will be made available on the Festival's website in the autumn.
Andrew Coulton, the Book Festival's Administrative Director, said 'This year's programme was bigger than ever, with almost 2.5% more tickets available than last year – not including our free Unbound programme. Having sold nearly 73% of all seats, we are very proud that our Festival continues to draw such large audiences in a time of continuing economic uncertainty. Sales in our independent Festival bookshops were on a par with last year, an outstanding performance demonstrating that – to paraphrase Mark Twain – reports of the death of the book are greatly exaggerated. With around 190,000 visits during the Festival, even Scotland's wettest August on record hasn't managed to dampen spirits in Charlotte Square Gardens.'
The RBS Children's Programme enjoyed sell out events and record signing queues for Cathy Cassidy, Robert Muchamore, Darren Shan and Julia Donaldson among others. The RBS Schools programme welcomed almost 12,000 children from primary and secondary schools across Scotland, culminating in 3,000 primary school pupils enjoying exclusive access to events in Charlotte Square Gardens for the RBS Schools Gala Day on Tuesday 30 August.
Forty seven debut authors who brought their first work of fiction to the Book Festival are eligible for the Newton First Book Award. Readers and audiences are being asked to vote for their favourite debut novel or short story collection in the programme, and the winner will be announced in October. Voting is now on-line through www.edbookfest.co.uk.
The 2012 Edinburgh International Book Festival will run from 11 to 27 August 2012 and the programme will be announced in June.
More articles