More articles Monday 31 August 2020 12:45pm
Young Fathers' Kayus Bankole and Writer Kei Miller Open Up about Africa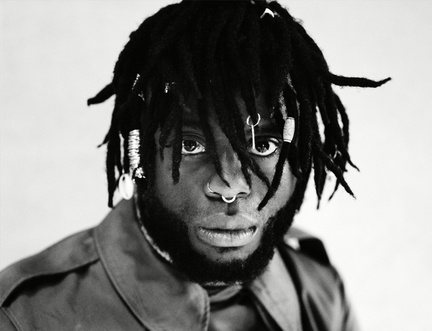 Download PDF
Award-winning writer Kei Miller, and founding member of Mercury Prize-winning band Young Fathers, Kayus Bankole, spoke at the Edinburgh International Book Festival online today, in an event reflecting on the journey they embarked on together across Ethiopia and Ghana earlier this year – part of the Book Festival's Outriders Africa programme. Exploring the shifting landscapes of contemporary Africa and contrasting the spiritual home of the Rastafari in Ethiopia with their ancestral links to West Africa, Miller and Bankole recalled the people, religious sites and music that has served as inspiration to them ever since.
Miller began by talking about a terrifying situation, where he was almost mugged walking about Nairobi at night, reflecting that in hindsight, he had perhaps been very stupid. "I guess it was interesting, as a Caribbean person of African descent, going to the African continent one feels all these kinds of weird things, but part of it is feeling this sense of invincibility, of going to a place that is a kind of spiritual home, and ancestral home in ways. And I think one of the weird things to contend with is the ways in which you stick out, the ways in which you are marked as foreign immediately, as not necessarily belonging… just getting to grips with the ways in which every city has its dangers and if you don't know, if you're not from that place, you can walk – very stupidly – into those dangers."
Miller revealed that the journey itself was an important one for him as it started in Kenya, somewhere he had promised he would one day visit with his Kenyan friend, and fellow writer, Binyavanga Wainaina, who sadly passed away in 2019.
Bankole on the other hand, said the journey for him was about looking for inspiration. He revealed "Just before the journey kicked off I was in the process of writing new material with my band [Young Fathers] and so I wanted to find some form of rhythm that I just wasn't getting at home. Just a bit of background: there's like two years between the times where I was in the studio recording, so with that gap I kind of felt slightly lost really. And so when the opportunity came to travel to the continent, I was like "Yeah! Let me return to the rhythm."… So that's what I was searching for. What I found was completely different."
Disclosing that in hindsight his expectation and excitement about the visit,ended up blinding him to what he was hoping to find, he said "Because I was so focused in my mind, as what I translate as art – what I'm used to seeing as art – I was forgetting to look at the real art within people's interaction, the real art in the exchange, and just what is around me, and scenically as well. I was too concentrated on "I want to see a painting" or "I want to read stuff" or "I want to hear music". And there was rhythm all around: there was rhythms in the pitter-patter of people's feet; there was rhythm in the accent; there was rhythm in the actual language that was there. So I realised in hindsight, and now I'm trying to revisit those moments and appreciate it."
For Miller, it was also the journey which forced him to question, meditate on, and scrutinise the horrors and betrayals that reside in the story of his own ancestry. "The process of slavery had lots of people who made it possible… we understand the racial injustices that happened, but part of that process was only possible because of some tribes selling-out 'their own people' for whatever it was – whether it was political power, or it was whatever they could trade, or whatever money they could get at that time, and so you go back to this place, and you see these people who have lived here, you know, for the last 500 years and you think – the only reason I don't live here, the only reason I wasn't born here, is because you were complicit, or your ancestors were complicit, in selling me out. And why did you do that?... It's a weird hurt that's rooted in several of us that are born on the other side of the world, and going back to that space brings it back home, and we don't know how to ask it because you have to ask it very carefully, and like all hurts it feels emotional and not always intelligent. And once you bring intelligence to it you can complicate it in all kinds of ways, but it doesn't change the fact that there's a hurt there."
Returning from their trip just before the COVID-19 global pandemic struck, they found themselves with plenty of time to reflect on their adventure, and both presented samples of the creative work that emerged from the experience in the event.
Miller read an excerpt from an essay recalling his experiences in Lalibela, Ethiopia, going up a mountain with his tour guide Prince to get to a monolithic church carved out of the rock. He described an incident with a foreign visitor in the church who demands Miller and his guide move out of the way so he can get better light for his photo. "'That man was Italian you see' Prince says, as if that should explain something else. And it does. The complicated history between the two countries. And these ways that tourism often replicates colonialism: the outsider who feels the natives should show deference, should happily squeeze themselves into corners when commanded. But who could never contemplate, yet alone tolerate, bodies such as ours, dark bodies, visiting any of their European cities and making such demands."
Bankole reflected on creating music and writing songs in Ghana, saying "I got in touch with a friend of a friend who told me that there was a studio not too far away from where we were staying, so I went to go and visit the studio with, like no intent to do anything whatsoever, and then I met a couple of musicians and a producer called Reynold, and they were playing me some stuff, and feeding off the energy, and I recommended they do a couple of things, and from nowhere we ended creating this song and making some music… and within a day it was done."
He went on to recall a visit to Elmina Castle and Cape Coast Castle – two of Ghana's so-called 'Slave Castles' – the last place so many men, women and children experienced before being shipped away from their homeland during the slave trade. "When we were there I had this very overwhelming feeling inside of me when we went into one of the dungeons. The tour kinda carried on without me at that point. My feet kinda like grew to the floor and I stayed there for a long period of time, just soaking the energy, tears dripping down my eyes and I didn't know for what reason… I took that feeling and then went back to the guest house and decided to write a song." Bankole ended the event with a poignant reading of the song he wrote, followed by a sample of the recording he created in the studio in Ghana.
More articles