Abir Mukherjee with Val McDermid: Calcutta on the Brink
Sun 29 Aug 16:00 - 17:00
The New York Times Theatre (in Sculpture Court)
Captioned
Watch online
Sorry, this event is no longer available to watch.
Attend in person
The New York Times Theatre (in Sculpture Court)
£14.00 [£12.00]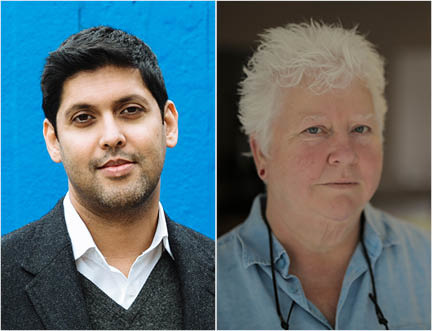 Though he's an award-winning, internationally bestselling author now, Abir Mukherjee didn't always live the dream. For twenty years he worked as an accountant before throwing away the spreadsheets. Now he's grown to become one of the UK's leading crime writers, his Raj-era thrillers featuring Captain Sam Wyndham and 'Surrender-Not' Banerjee adored by legions of loyal readers and published in twenty different countries. His popularity has continued to rise during the past year, with Death in the East, the fourth in the series, published just before the pandemic. Mukherjee joins us today as he looks forward to the publication of book five, The Shadows of Men, about the murder of a Hindu theologian in 1920s Calcutta. In this event, he tells fellow author Val McDermid about living in Scotland but writing about India, his desire to pay tribute to Agatha Christie, and his process of planning the Wyndham and Banerjee mysteries.
This is a live event with an author Q&A. Authors and participants will be on stage, in the venue. After the event, Abir Mukherjee will be doing an in-person book signing on the Festival site.
Categories: Crime/Thriller, Fiction, History, Politics, Religion, World Voices
---