Ali Smith: Art in a Time of Lies
Thu 26 Aug 17:30 - 18:30
The New York Times Theatre (in Sculpture Court)
BSL Interpreted, Captioned
Watch online
Sorry, this event is no longer available to watch.
Attend in person
The New York Times Theatre (in Sculpture Court)
£14.00 [£12.00]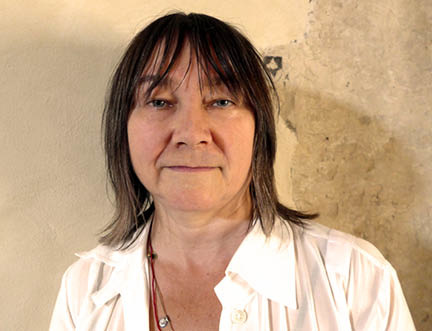 In each novel of Ali Smith's Seasonal quartet, the narrative closely follows real world events. Brexit, the internment of migrants and the Coronavirus pandemic: each is woven into the fabric of Autumn, Winter, Spring and Summer, lending them a keen sense of relevance. But look again at this group of genuinely novel novels, and there are countless references – from other times and other places – to artists and thinkers. Visual artists Barbara Hepworth and Tacita Dean; filmmaker Lorenza Mazzetti; writers Charles Dickens and William Shakespeare – why do they have such a profound influence on Smith's characters? Is art simply a displacement activity, a diversion from the 'real things' happening in the world? Or could it be that Ali Smith's achievement is to reveal – with her trademark nimbleness – just how important art can be in helping make sense of a stupid, shameful, schismatic world? The highly-respected Scottish novelist has teamed up with artist Sarah Wood to create a new short film made uniquely for Edinburgh. Art in a Time of Lies, directed and edited by Wood; written and narrated by Smith, will be shown today only and will not be available on-demand after the live event. After the screening, Smith talks about her writing and some of the artists who have inspired her with Festival director Nick Barley.
This is a live event, with an author Q&A. The authors are taking part remotely; if buying a ticket to watch the event in-person, you'll watch them on a large screen in the venue. The interviewer is on stage in the venue. After the event, Ali Smith will be doing a virtual book signing via Zoom. Buy her book in our online Festival Bookshop and select 'Meet The Author' to book your place.
Categories: Art/Design/Photography, Fiction, Film/TV/Media, Scottish Fiction, Scottish Interest
---