Beloved: A Tribute to Toni Morrison
Sat 24 Aug 20:30 - 21:30
The New York Times Main Theatre
£ What you can
Pay what you can for this event: choose your own ticket price on the booking form.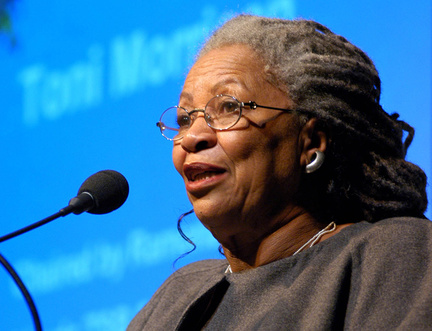 A true modern literary legend
"Narrative is radical, creating us at the very moment it is being created". So said the irreplaceable Toni Morrison as she collected her Nobel Prize for literature – the first and only African American to do so. With her own radical narratives she created unforgettable experiences for legions of readers around the world, and she leaves us haunting, lyrical novels of immense, timeless power. Scots Makar Jackie Kay leads this special memorial event marking the life and work of a true modern literary legend, alongside writers Nafissa Thompson-Spires and Nesrine Malik, editor Margaret Busby, as well as publishers Clara Farmer and Lennie Goodings and musician Heir of the Cursed, each of whom have been moved, inspired and influenced by Morrison's oeuvre in different ways. Join us in a warm, celebratory event paying tribute to Morrison with readings from her across her astonishing career, audio from her Book Festival appearance in 2004, music from Heir of the Cursed, and more.
We invite you to Pay What You Can for this event. You may choose to pay an amount between £0 and £25 for your ticket, taking into consideration what you can reasonably afford to spend. This pricing has been introduced to help make the Book Festival accessible to those with limited means. If you are able to pay more for your ticket, you will help support our efforts to provide financial flexibility to those who most need it.
Part of our Telling Her Story series of events.