Charlotte Higgins: Why Greek Myths Still Matter
Sun 29 Aug 13:00 - 14:00
The New York Times Theatre (in Sculpture Court)
Watch online
Sorry, this event is no longer available to watch.
Attend in person
The New York Times Theatre (in Sculpture Court)
£14.00 [£12.00]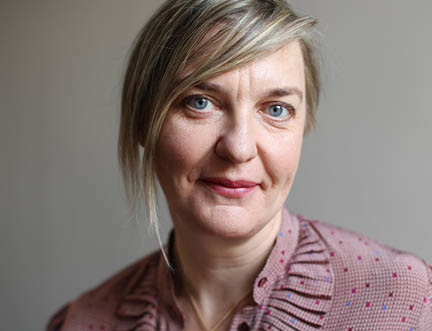 The Guardian's chief culture writer has enjoyed enormous success in recent years by combining a formidable talent for smart journalism with her abiding love of the Classics. The resulting books include Under Another Sky, in which she journeyed around Roman Britain in an old camper van, and Red Thread, an uncategorisable memoir-cum-meditation on the meaning of mazes and labyrinths. Now comes her most ambitious work to date, Greek Myths: A New Retelling, which features drawings by Turner Prize-winning artist Chris Ofili. Here she recounts well-known Greek myths as if they were actual scenes being woven into textiles, by women who feature prominently in them. Athena and Andromache, Philomena and Penelope all appear, with each tale offering a fantastical, ripping yarn full of powerful witches and unpredictable gods. These stories retain their power centuries after their first telling because they excavate the very essence and extremes of human experience. Today she discusses her landmark project with Director of the Fruitmarket Galley Fiona Bradley.
This is a live event, with an author Q&A. If buying a ticket to watch the event in-person, the author will be on stage, in the venue. After the event, Charlotte Higgins will be doing an in-person book signing on the Festival site.
Categories: Fiction, Politics, Sci-Fi/Fantasy, Travel/Adventure, Women/Feminism
---